Another scorcher, no real plan, I head out towards the Don. First stop Old Aberdeen. Sundial checked as correct 2.30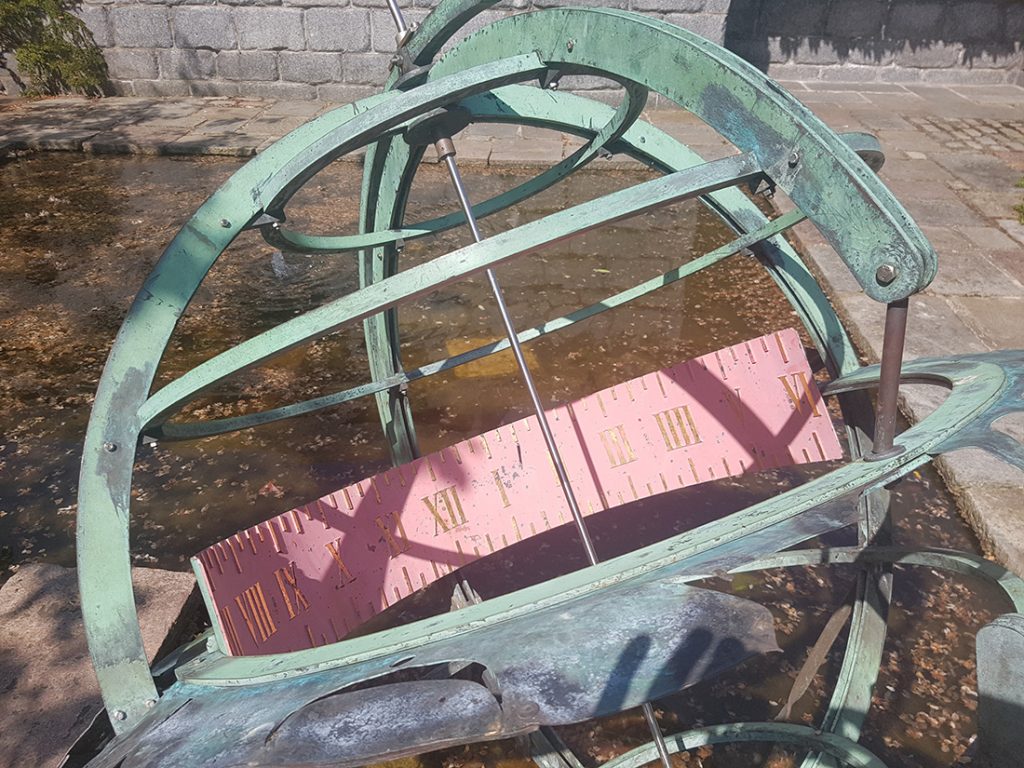 Today is an open day for the Uni, loads of prospective students and student ambassadors wandering around campus. The sun is showing Old Aberdeen off beautifully, albeit it might give them a wrong impression of the general weather here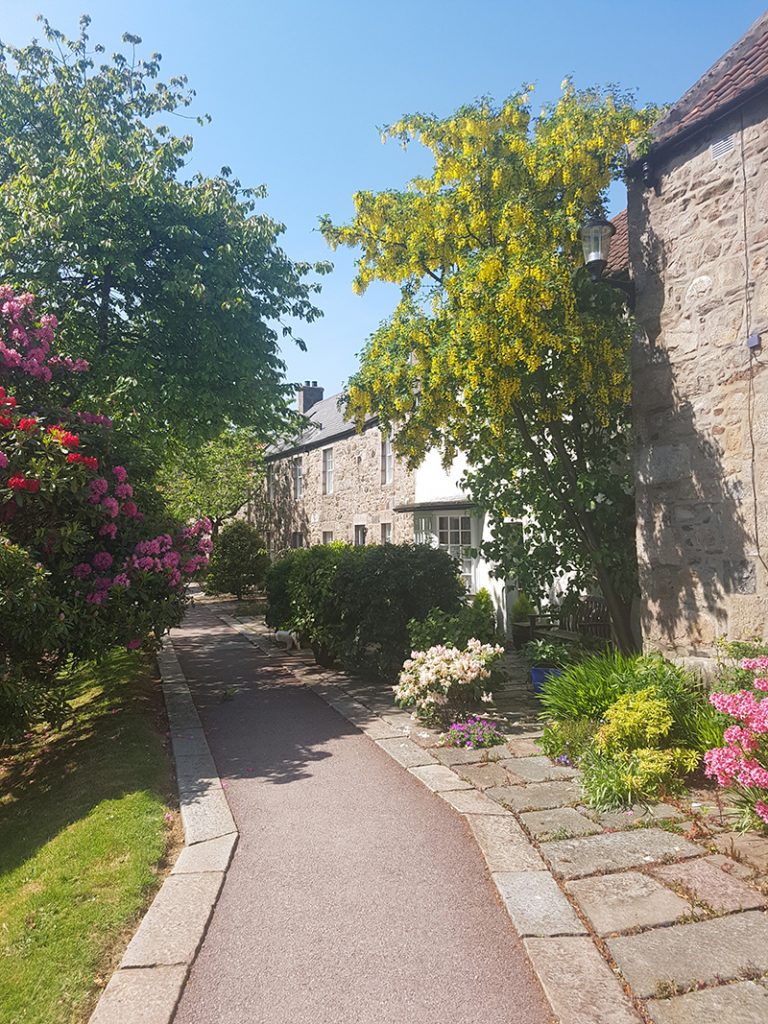 Through Seaton park, unknown flower in the pink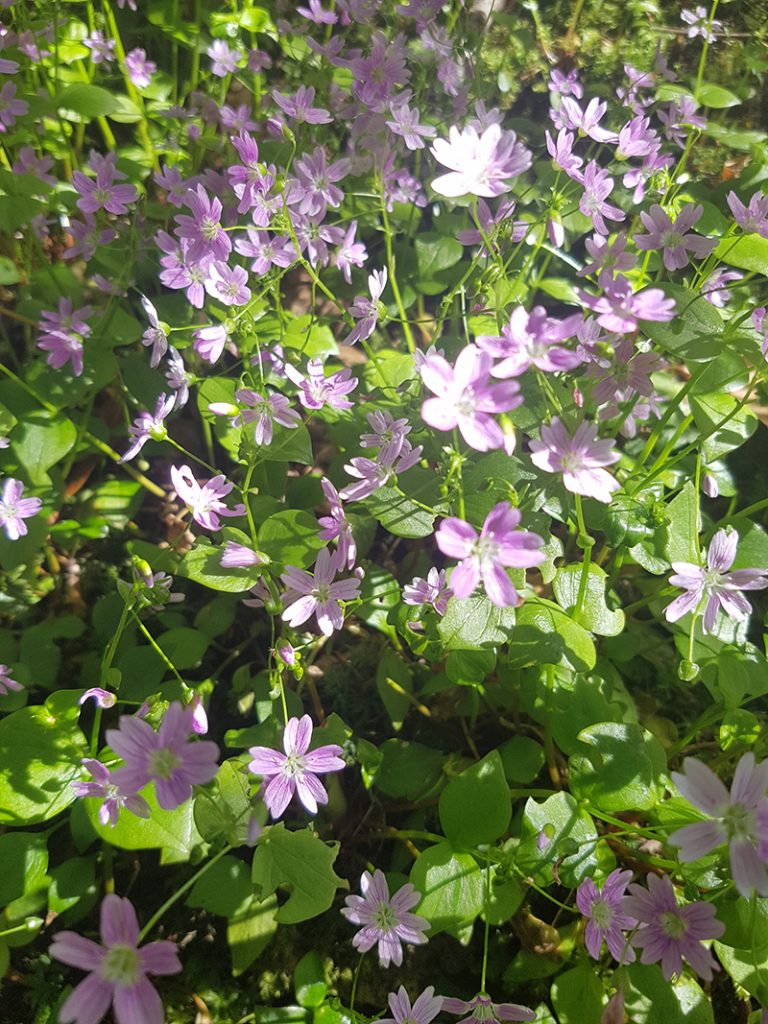 The pond is drying out a bit and unfortunately the Swan's nest hasn't hatched, but there's some Ducks, ducking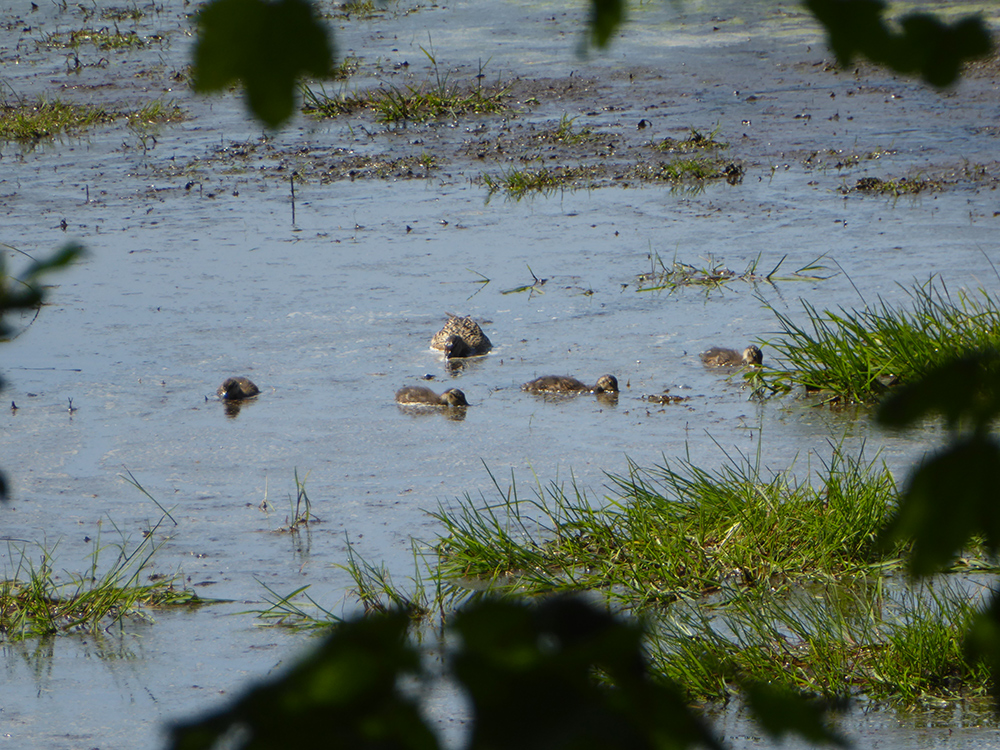 Up the hill through the woods, to the wooden Guardian of the walled garden, he seems happy enough, so in we go.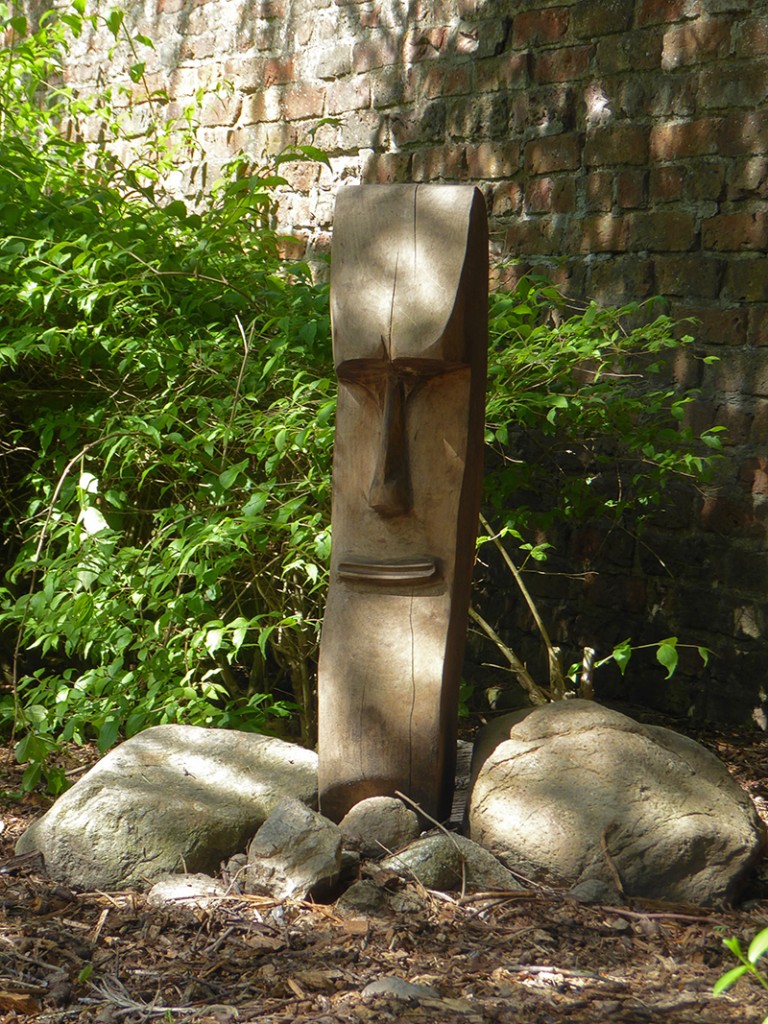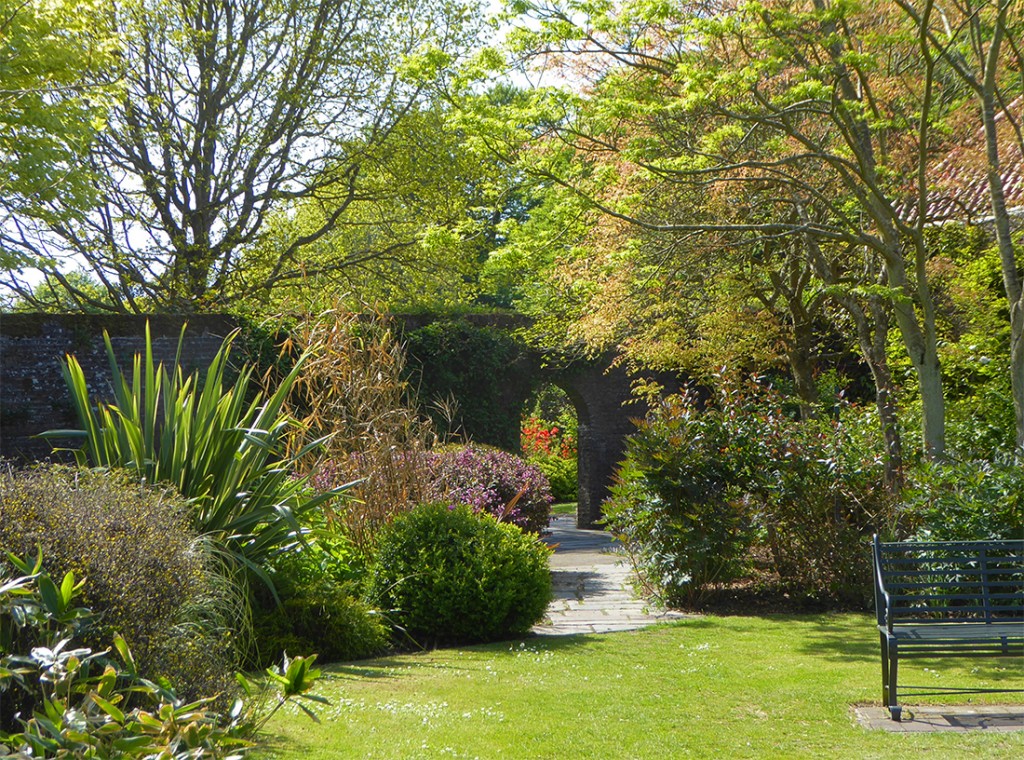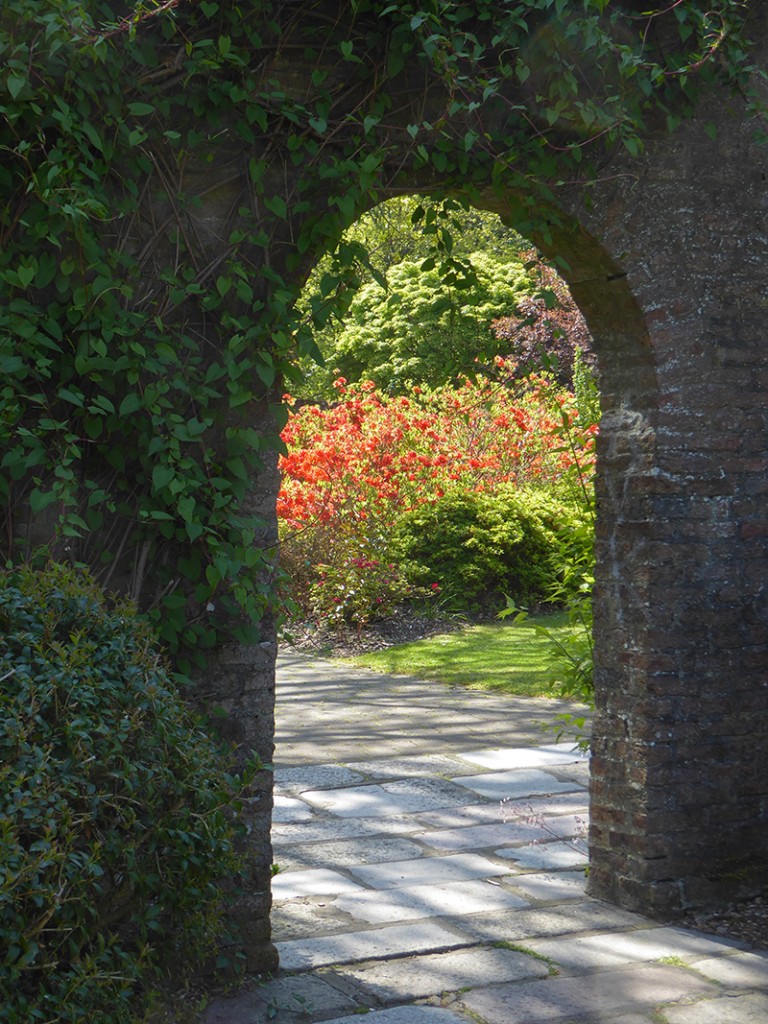 Looking great in the sun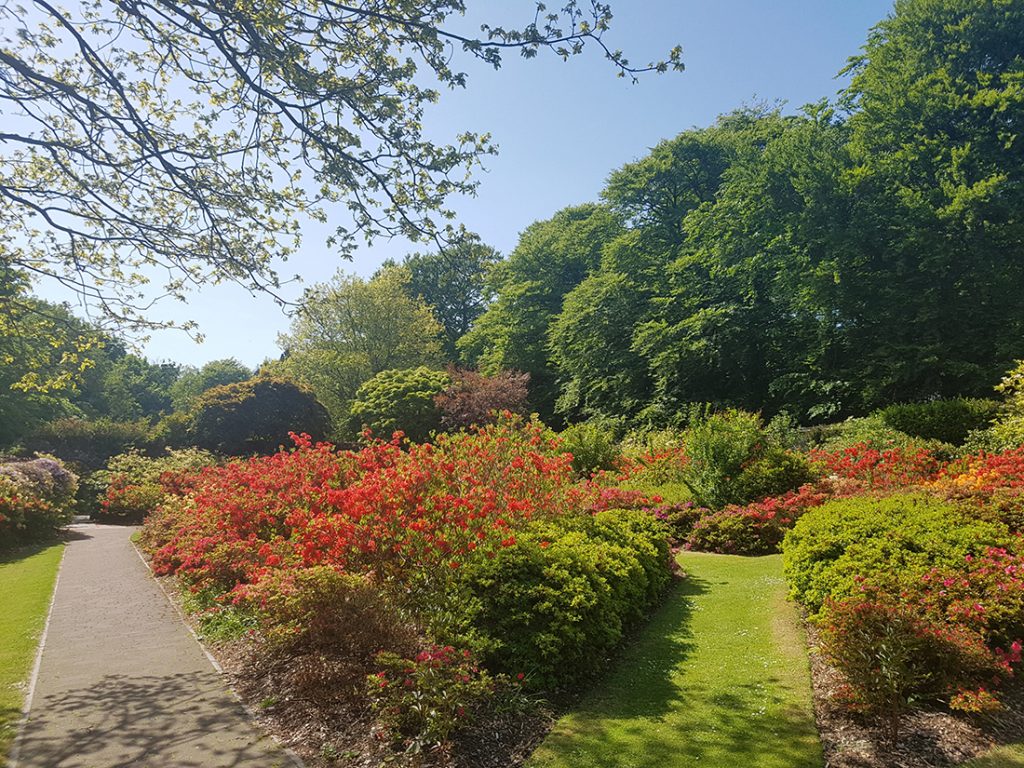 heading North towards Scotstoun Moor, something fizzes past my peripheral vision, making me jump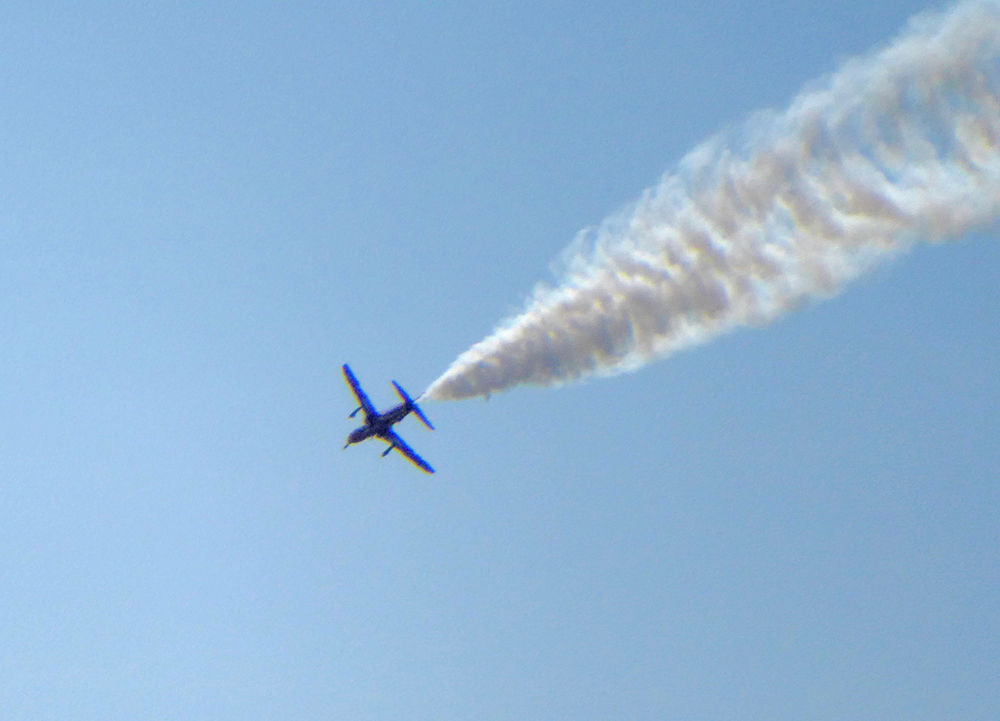 I pull over.. not every day you see a flying visit from the Red Arrows!  I didn't know they were visiting, 10 minutes earlier / later and I'd have not seen them. They whizz off after a few minutes, on route to other towns for flybys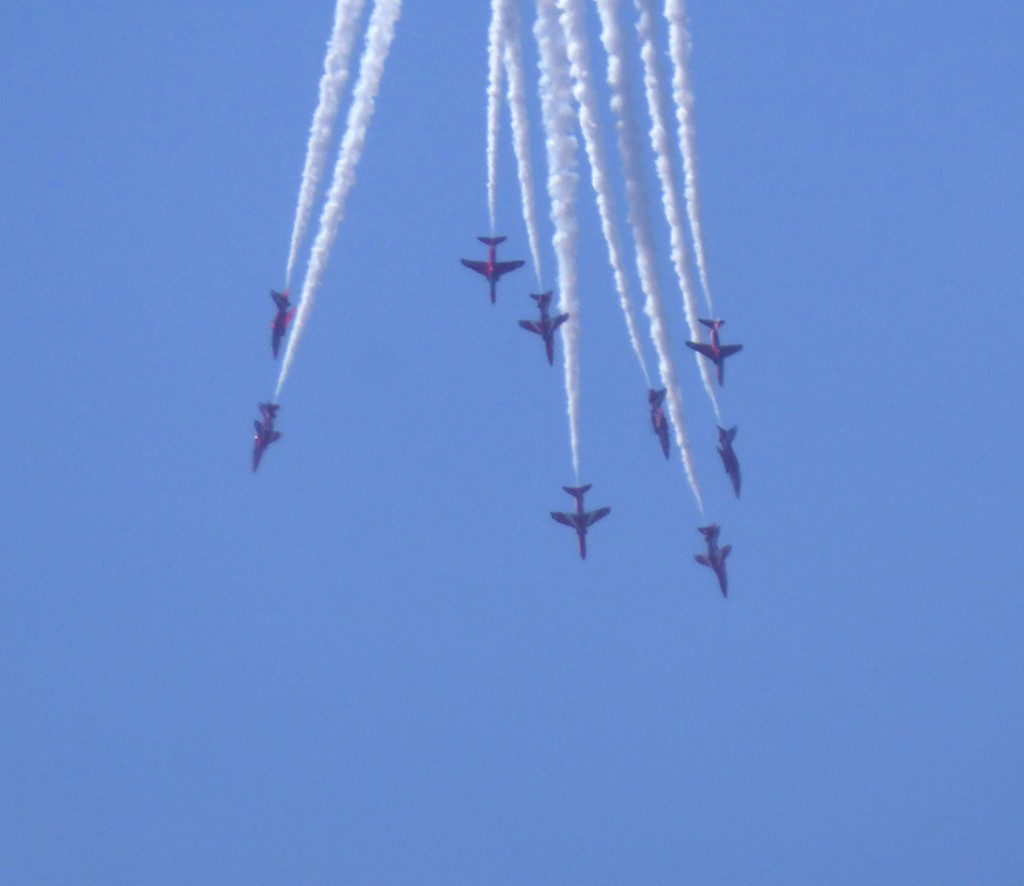 Max zoom at zooming jet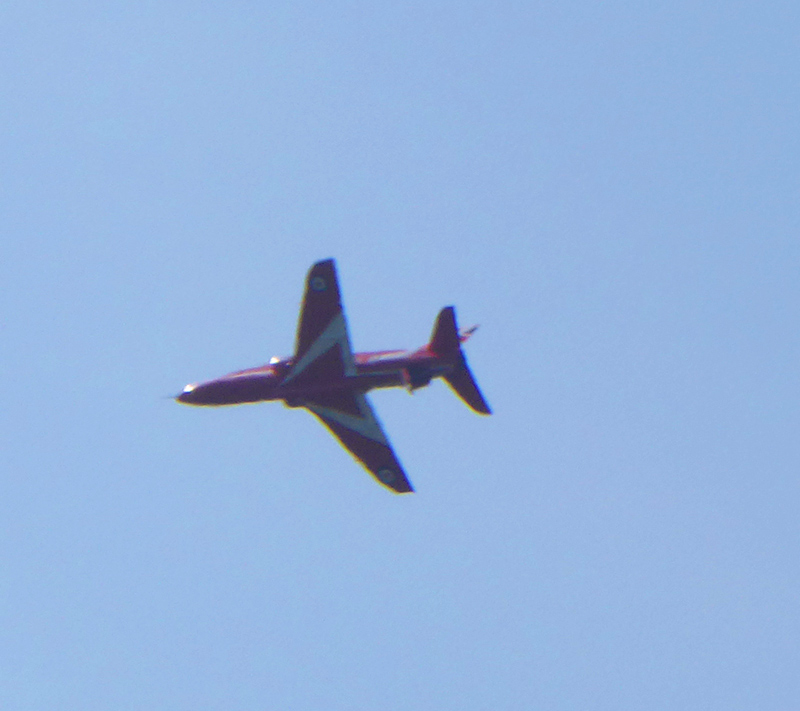 I talk for a while to an old codger who's taking a break from carting a massive bucket of paint. We talk jets and airbases.
I randomise down a lane off Jesmond Drive,  and then take a right down an unmarked path through woods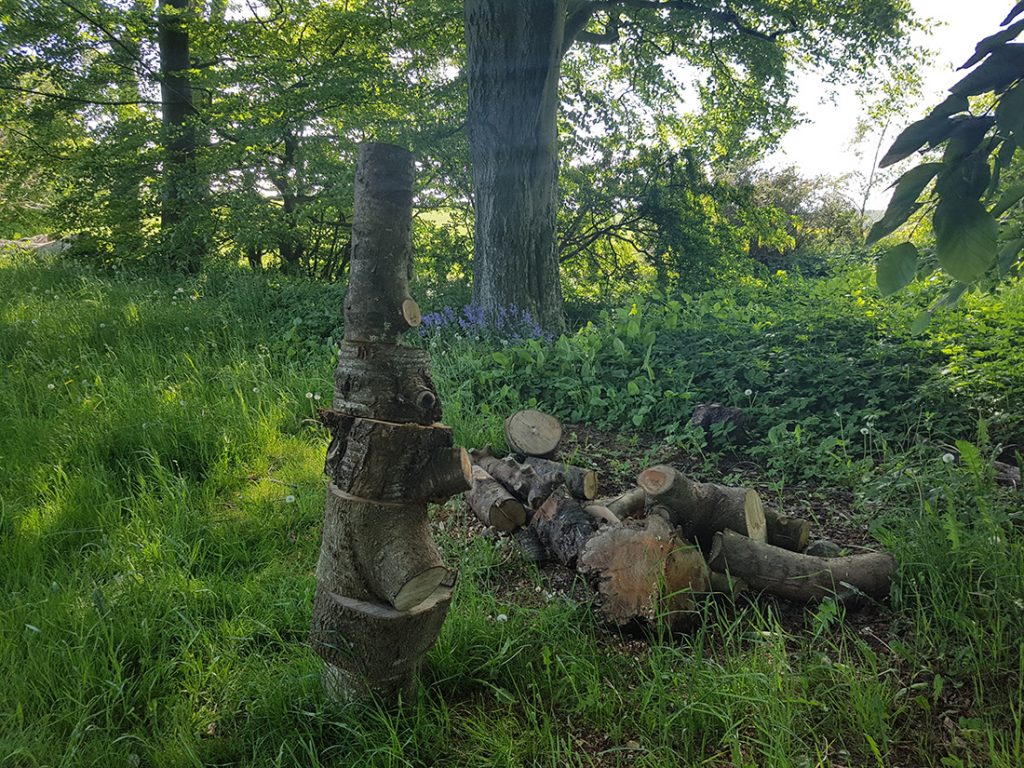 I stop to gather and munch on some elm pods, this tree is thick with them
Past a meadow, the airport radar station peaking through a gap in the trees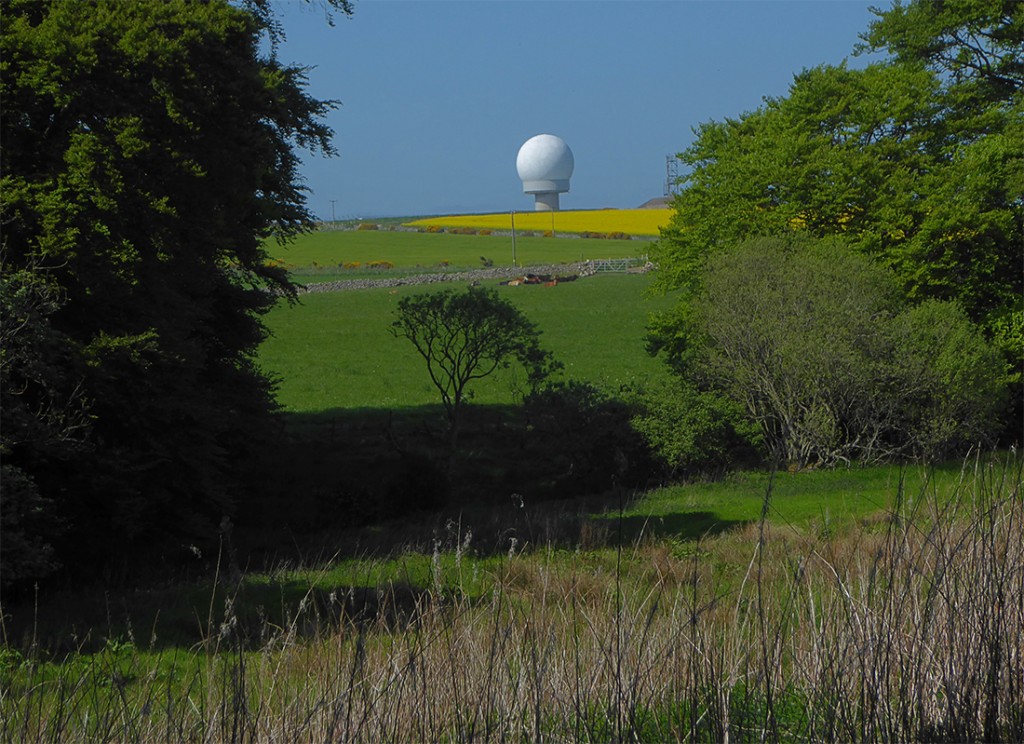 The path leads to the woods at the back of Grandhome moss, one side all yellow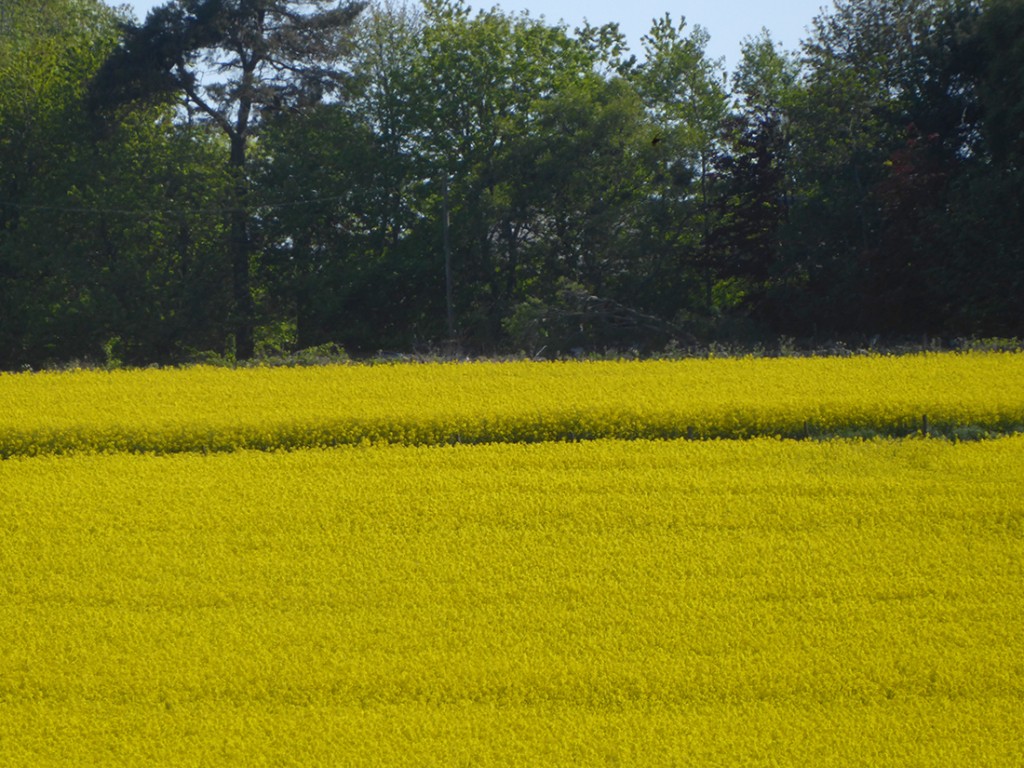 The other all green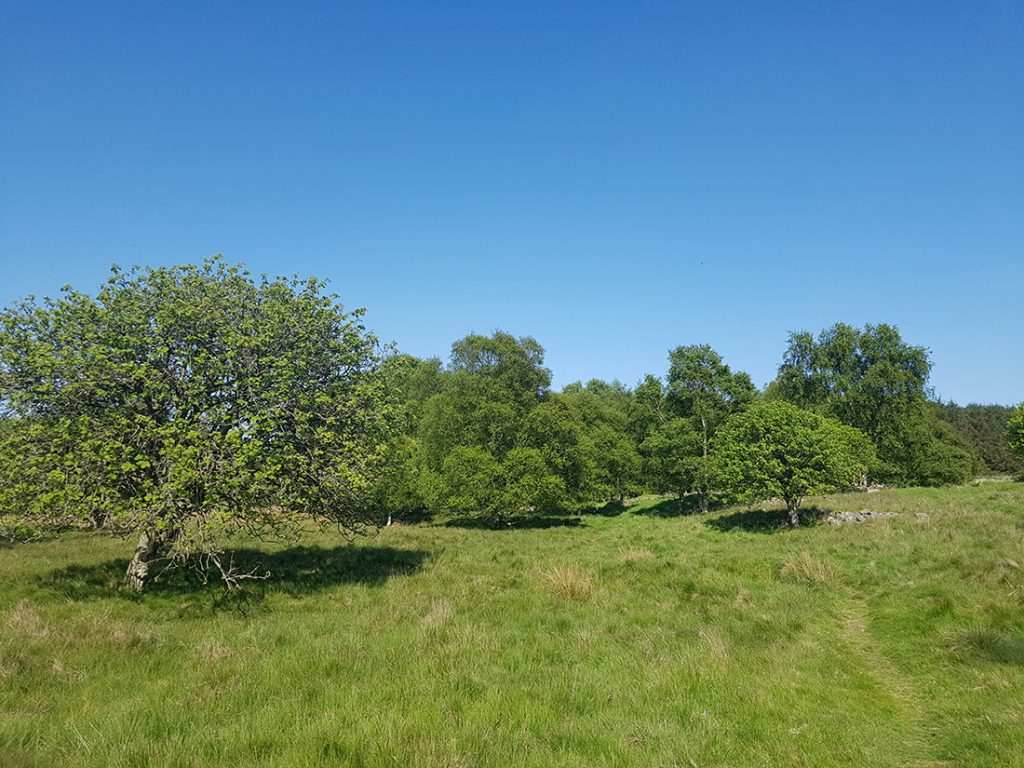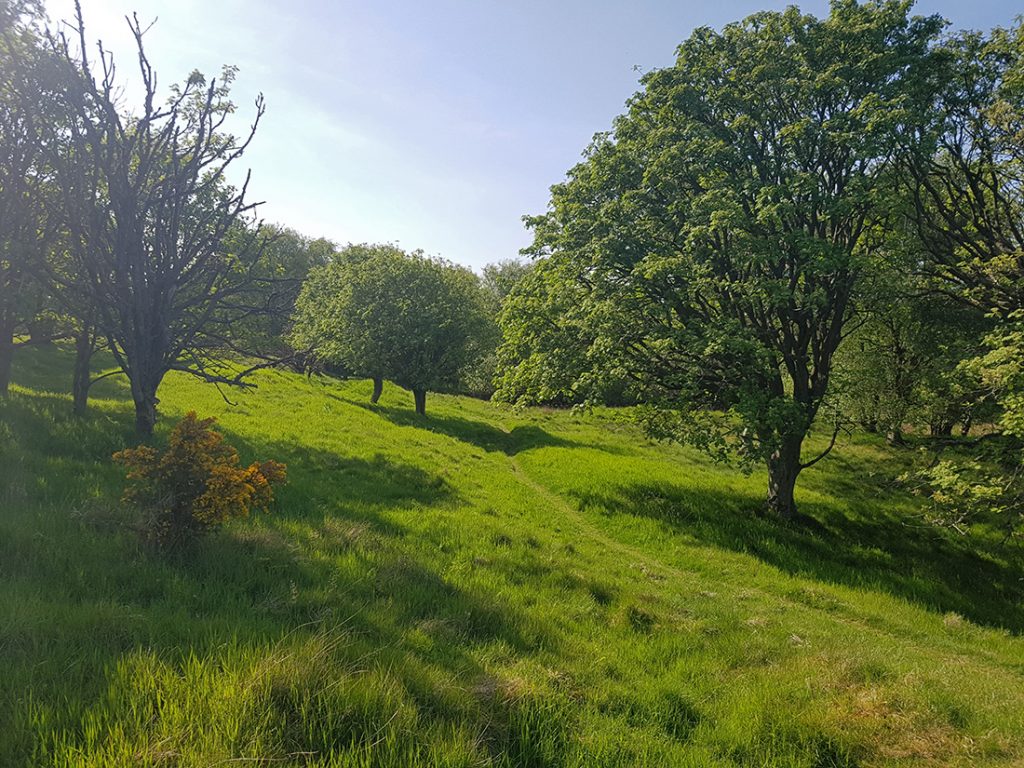 I take a look down a path deeper into the moss, but there's a fair amount of squishy and impenetrable bog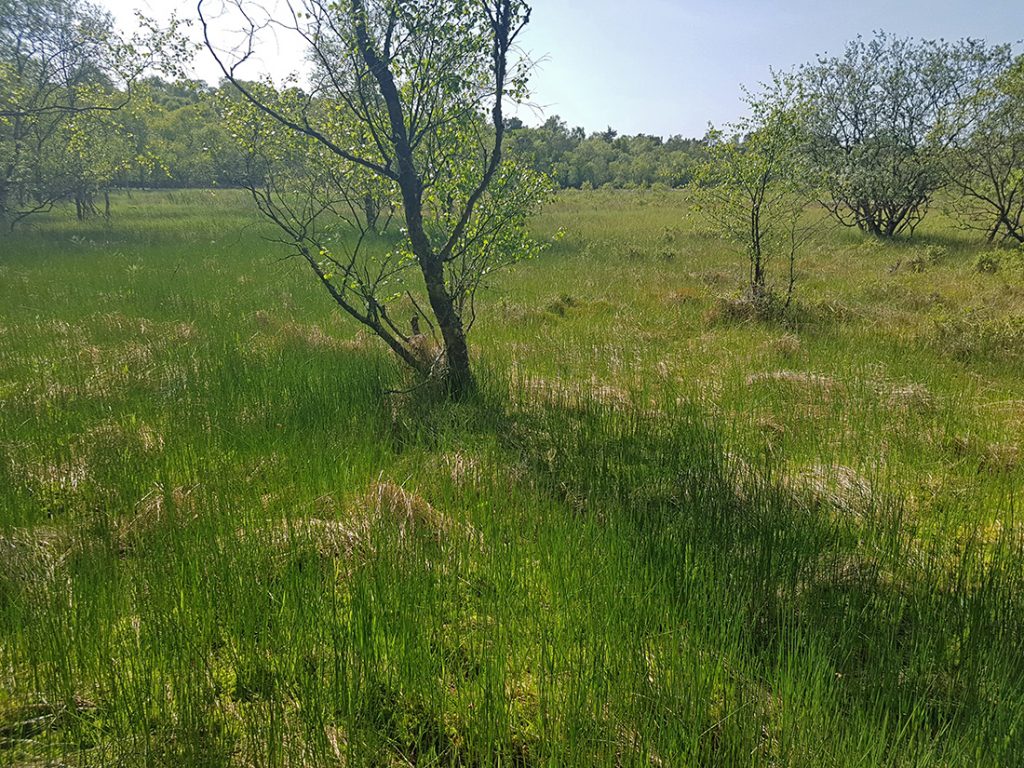 Back under the trees Wood Anemones enjoy the shade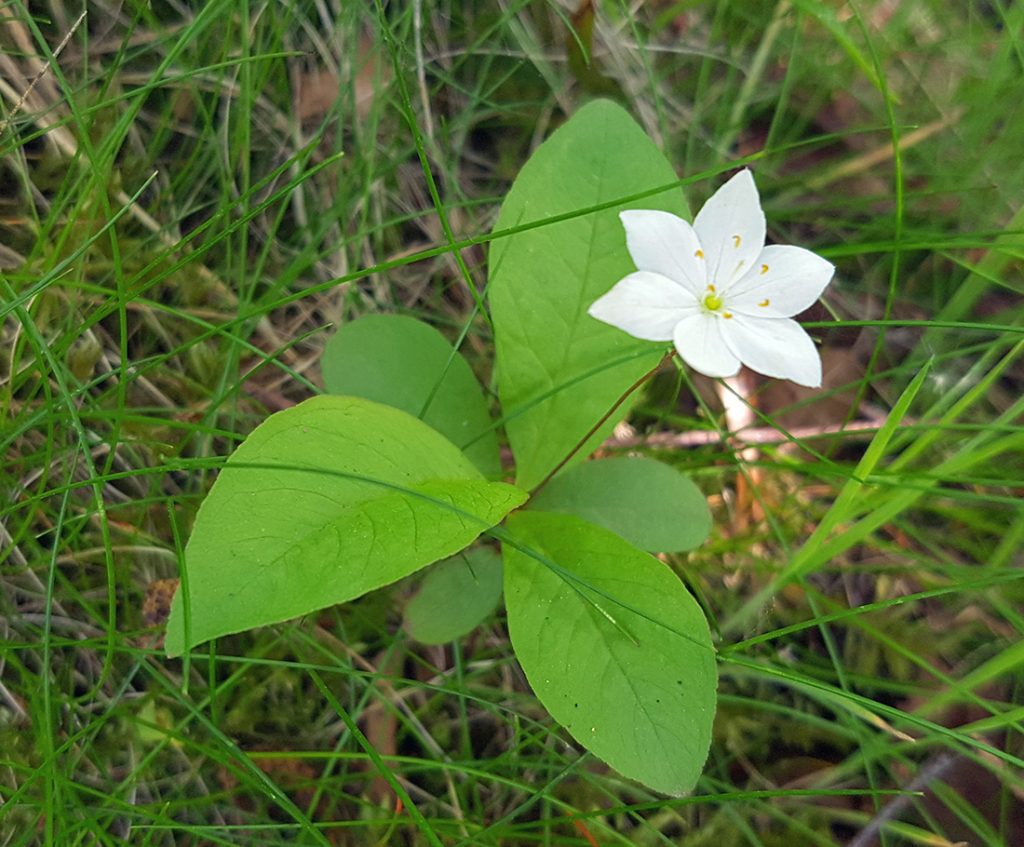 There are a few unusual looking insects fluttering about here. I stop to see if I can get a closer look.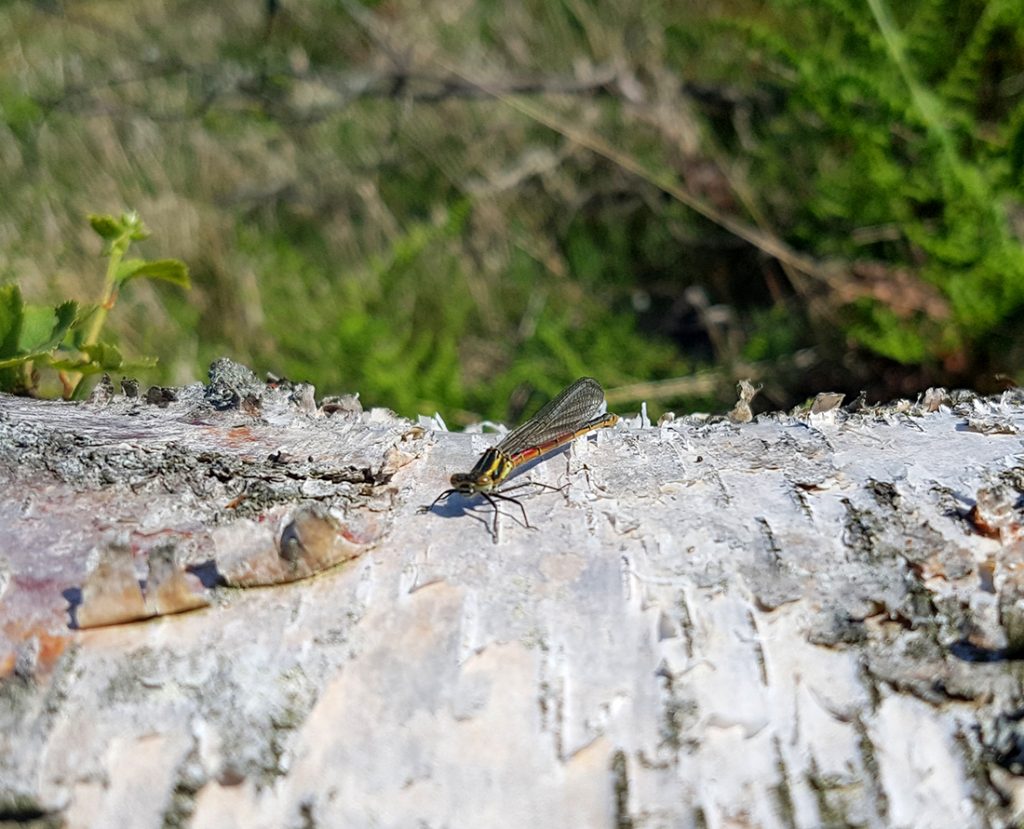 Large Red Damselfly Female – Pyrrhosoma nymphula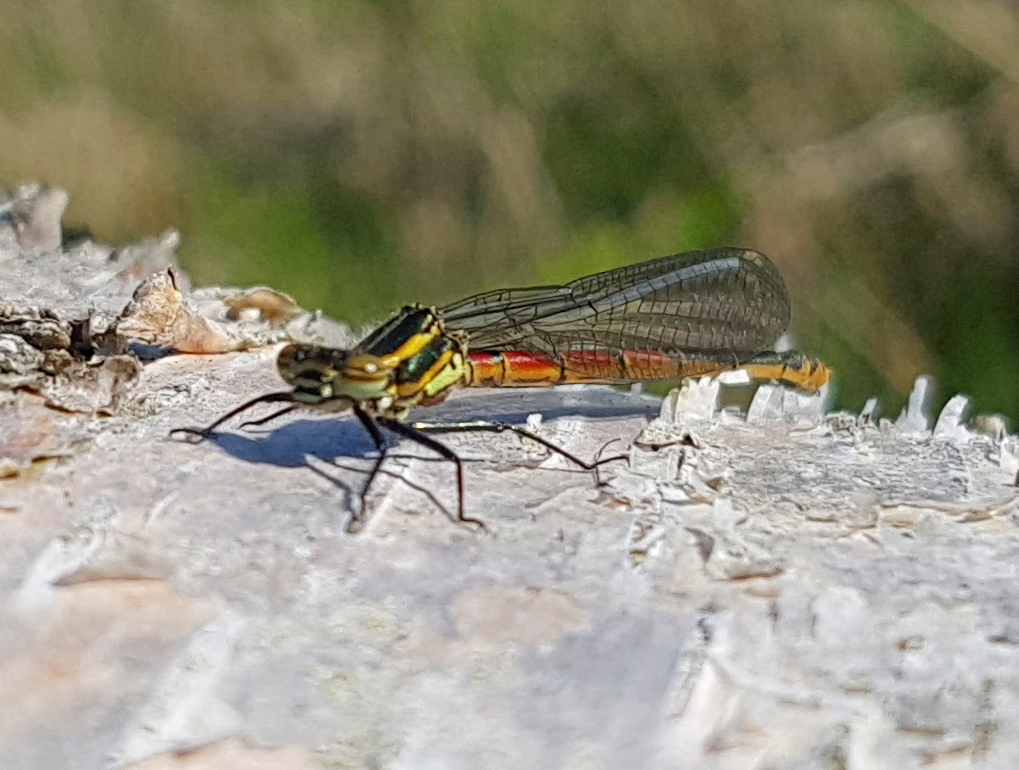 Out of the moss, along Whitestripes road to Todhill / Fowlershill woods, I think twice about entering as there's a lot of forestry activity, and there's a LOT of signs warning folk to keep out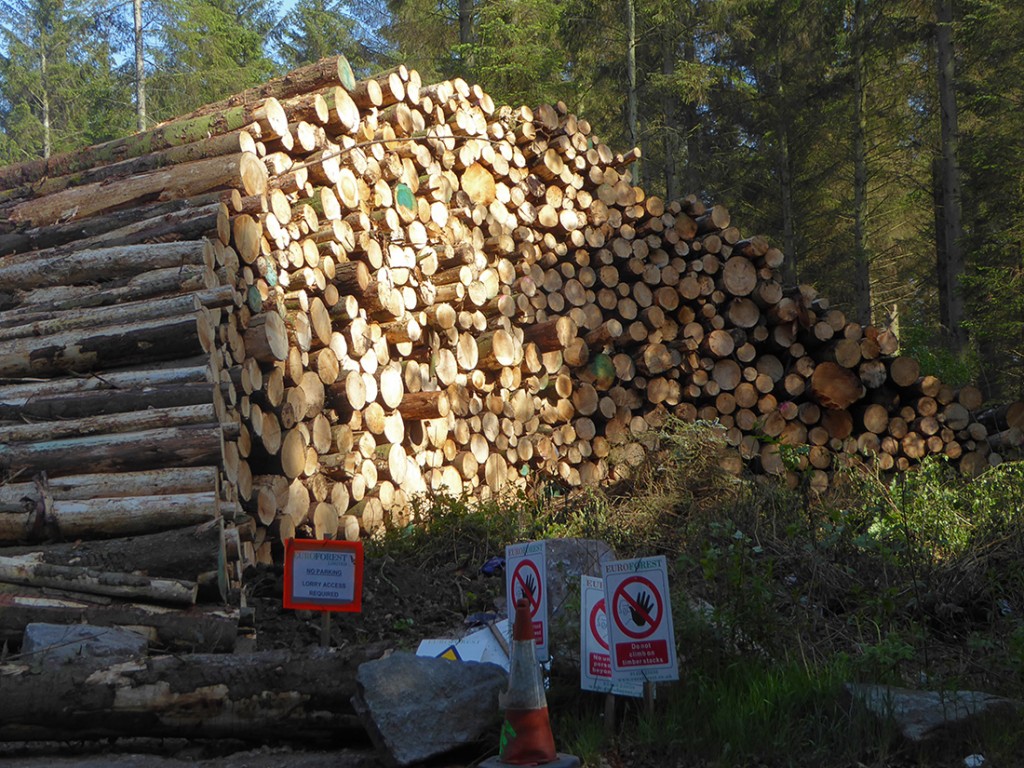 I'll head along a bit further and check out Bishop's Loch, also Known as Loch Goul. There's what looks like a bit of a park across from Badger's Hill, I just loup over the fence there, and head down to a copse of trees to park the bike.
At first sight looks pretty overgrown
More clear water over to the back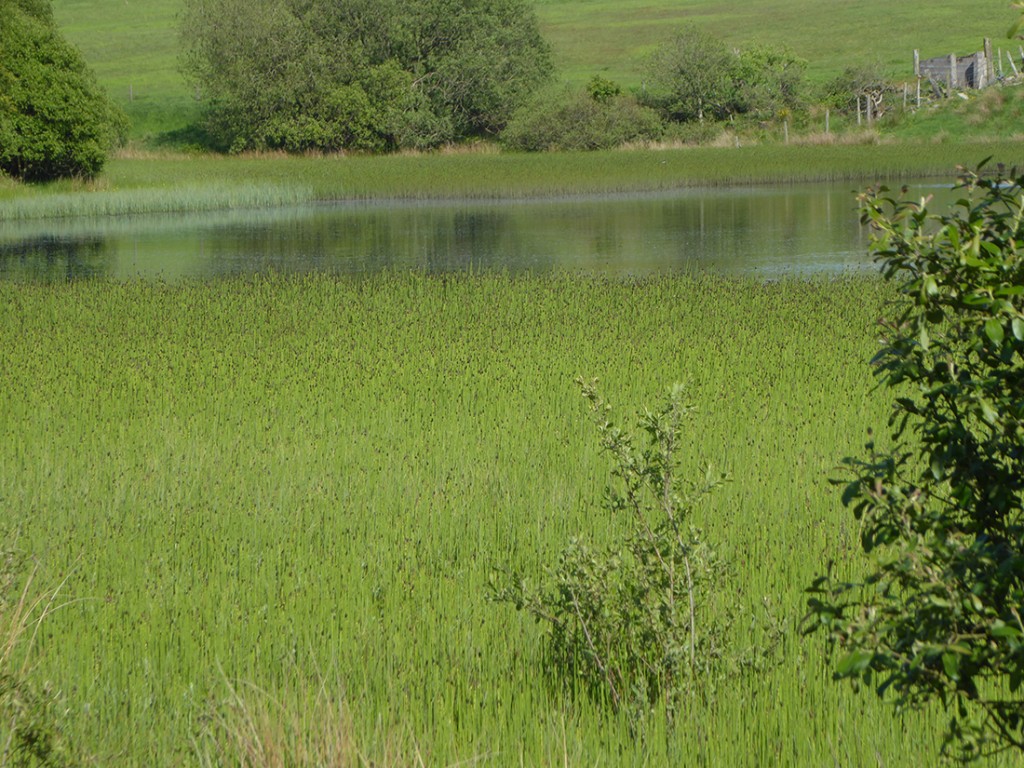 Wandering round to the back corner, keeping an eye out for the 'Bishop's manor' marked on the OS map.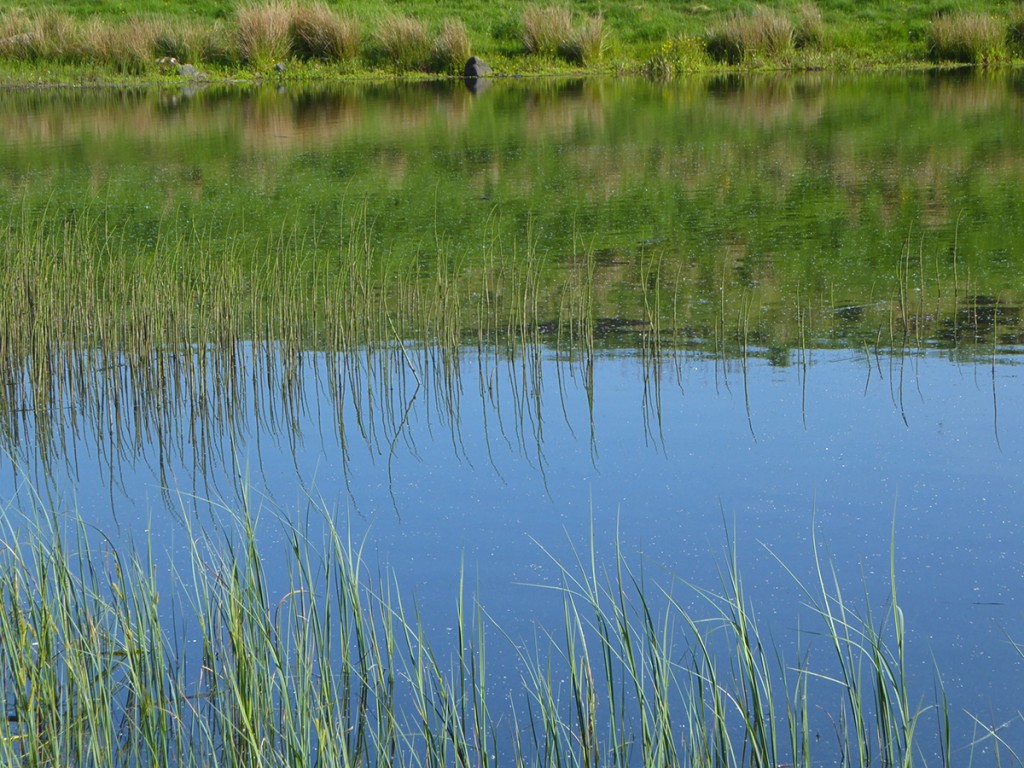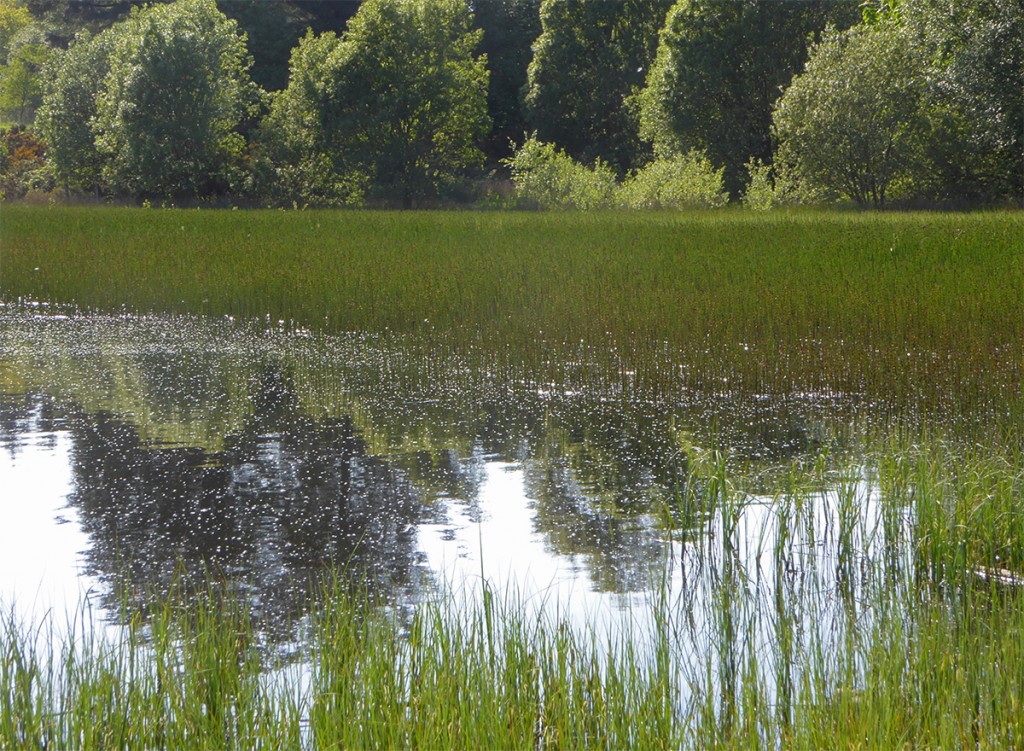 Loads of birds skimming the water and the occasional splash. Wonder what kind of beasts lie within (* see update)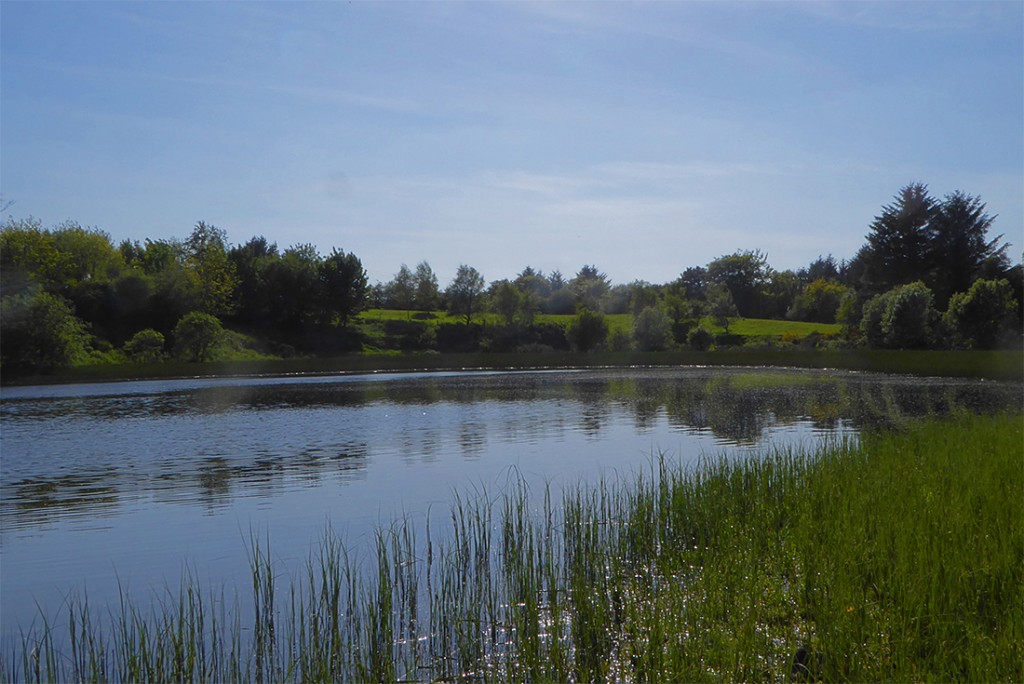 I poke about the woods to the North looking for any sign of the ruins, but nothing I can see. A few rocks lying about. I'm tempted to progress East to Corby loch but the going looks scrubby and marshy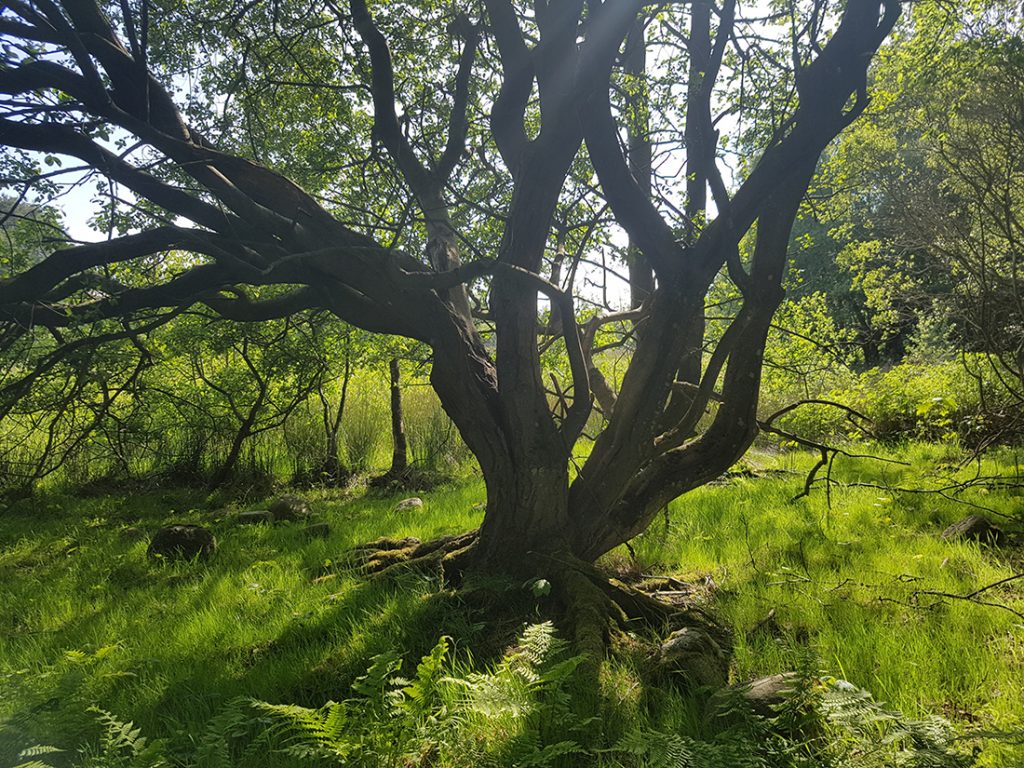 After carefully negotiating the road (it's a real rat run for speeding arseholes late for East Enders) I cross into Den Wood. These deer seem none the wiser of my bike crackling through the twigs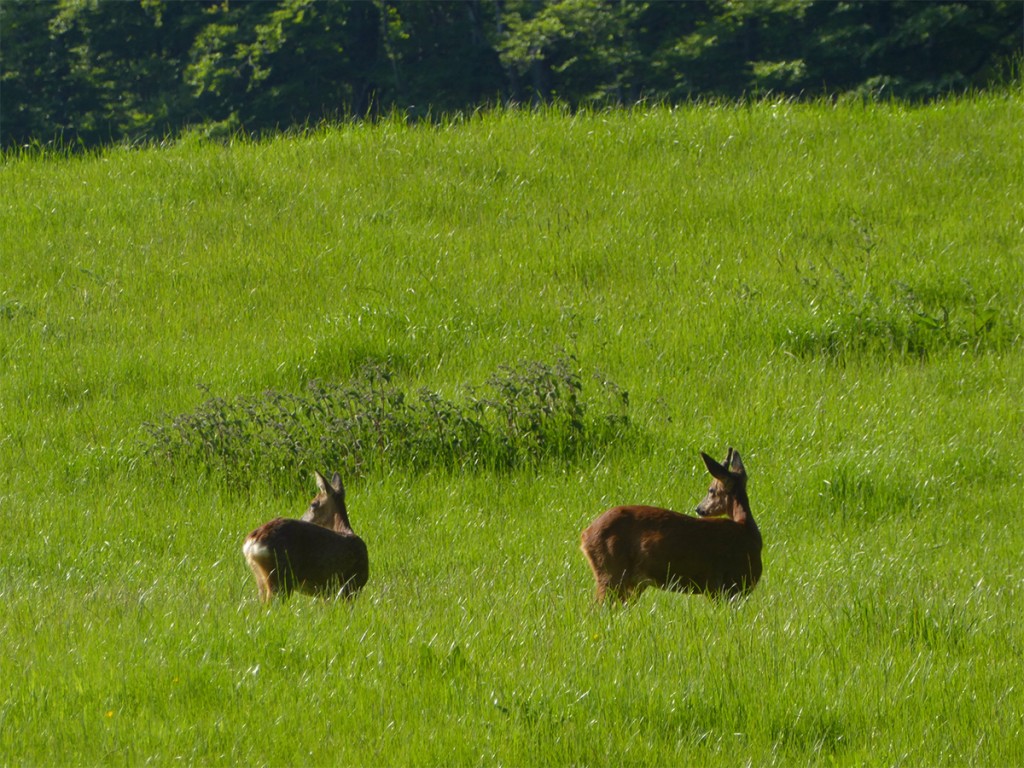 I head around the perimeter of Den wood; there's a scrape of a path barely navigable. Back out onto the main track heading across Parkhill estate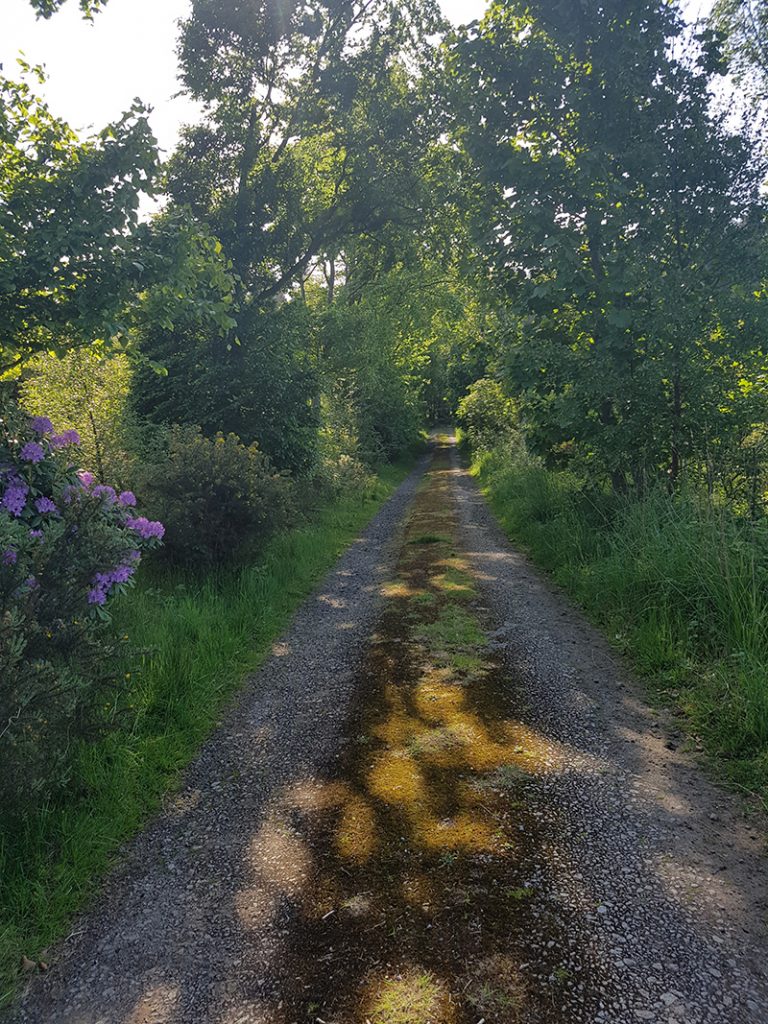 Looking across the finely cut lawns of Parkhill house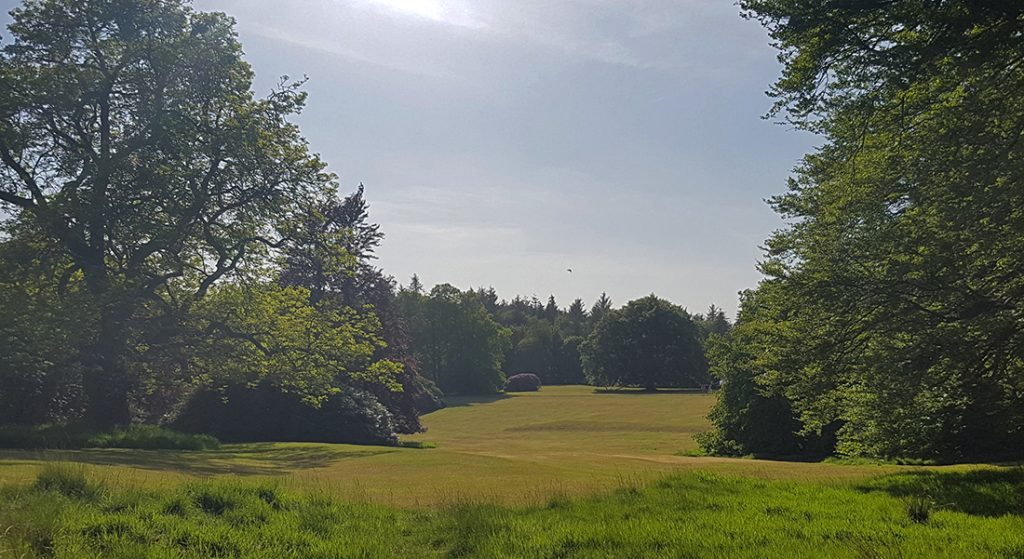 I think this wee hobbit's house is actually the ice house referred to here.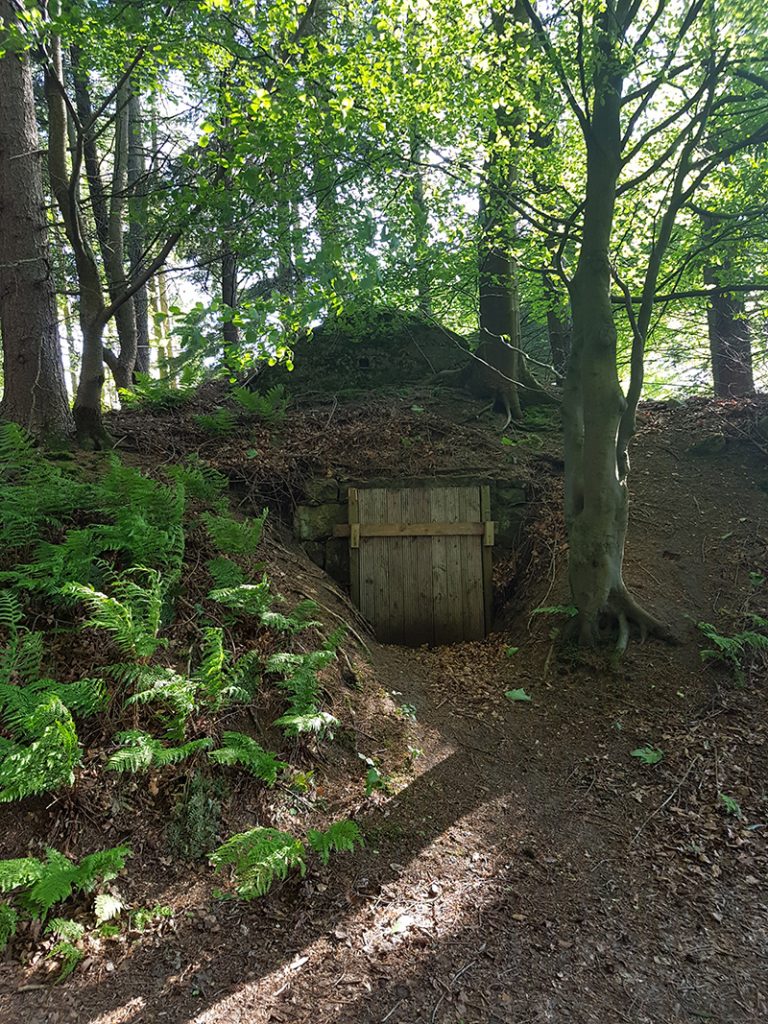 Down to the lake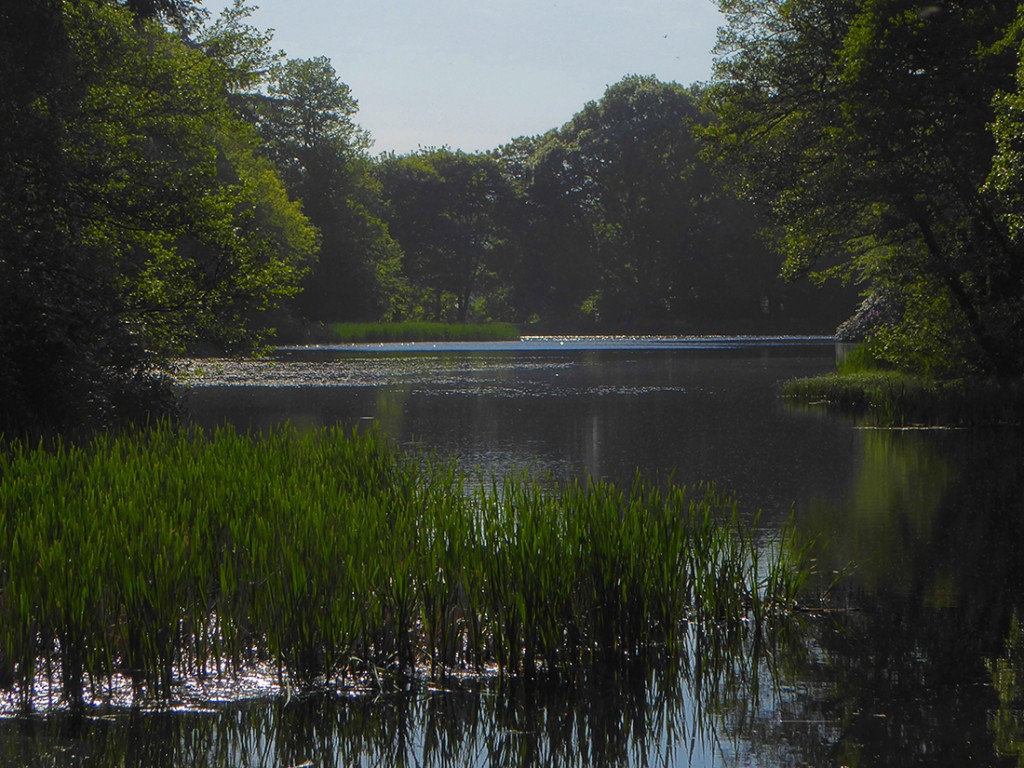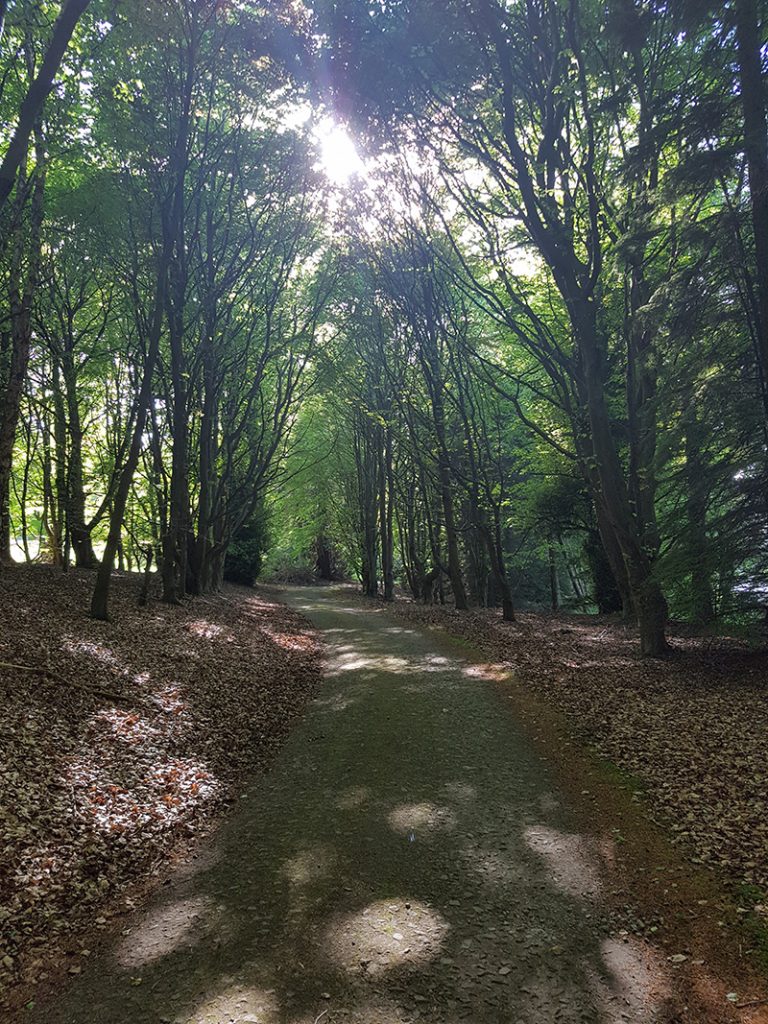 Some cracking old trees here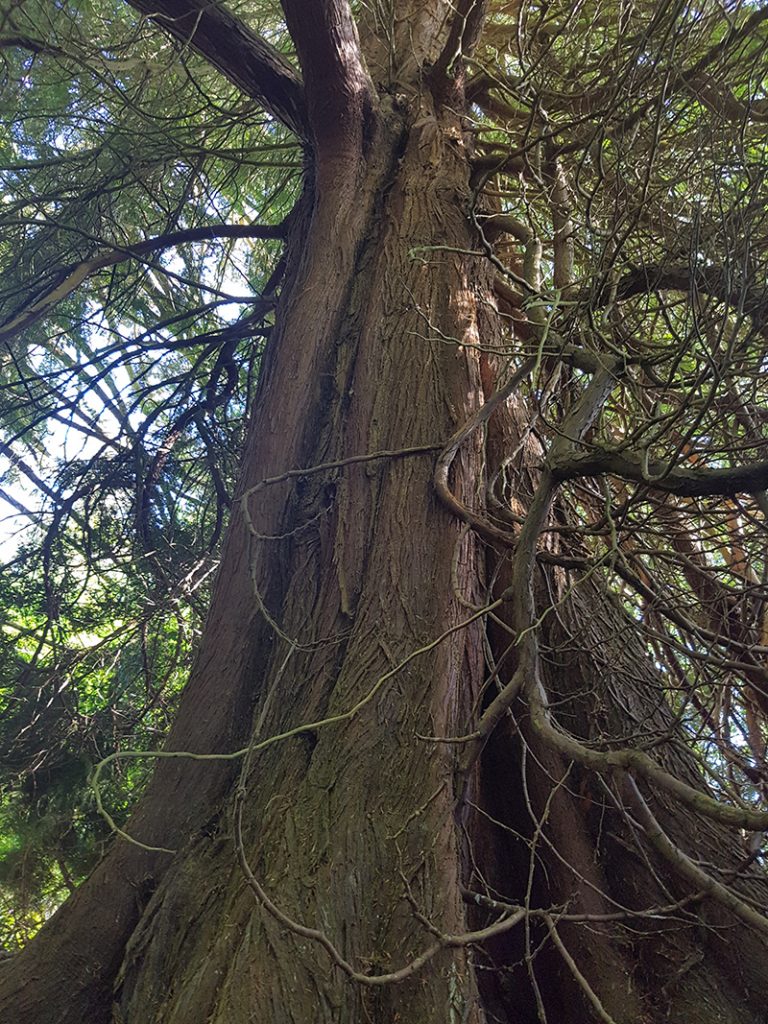 Down at the foot of the lake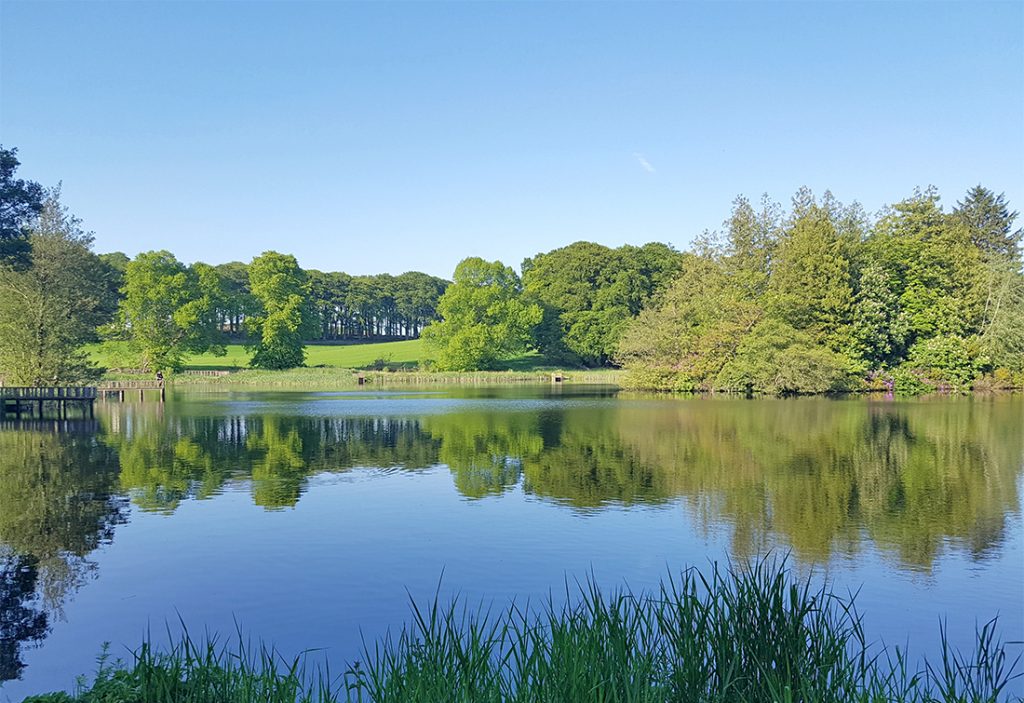 A few folk fishing today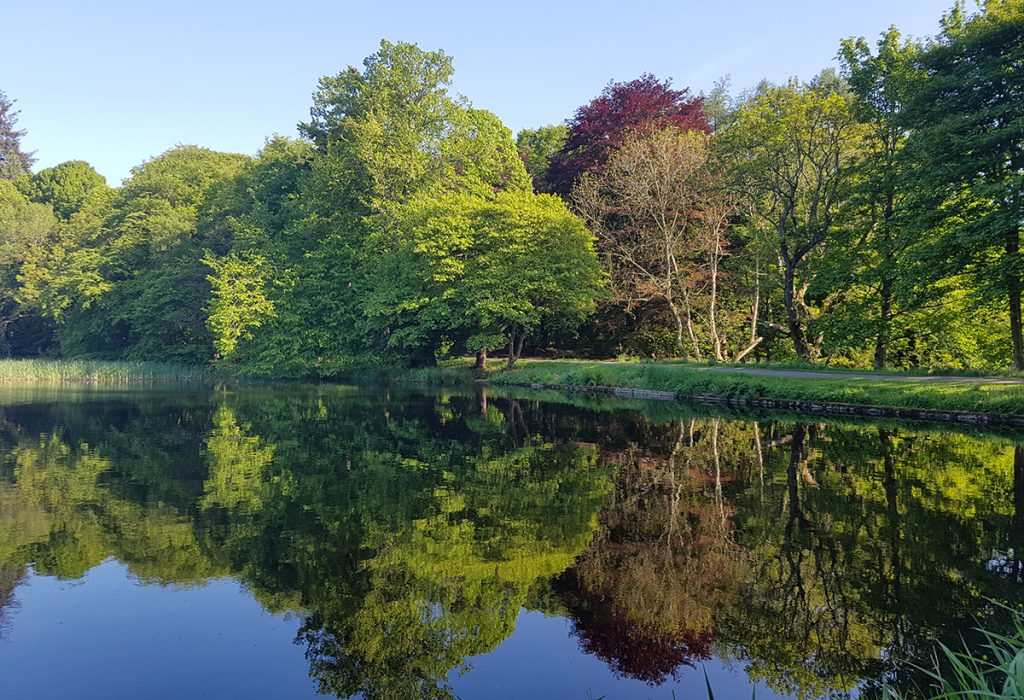 Nice reflections in this corner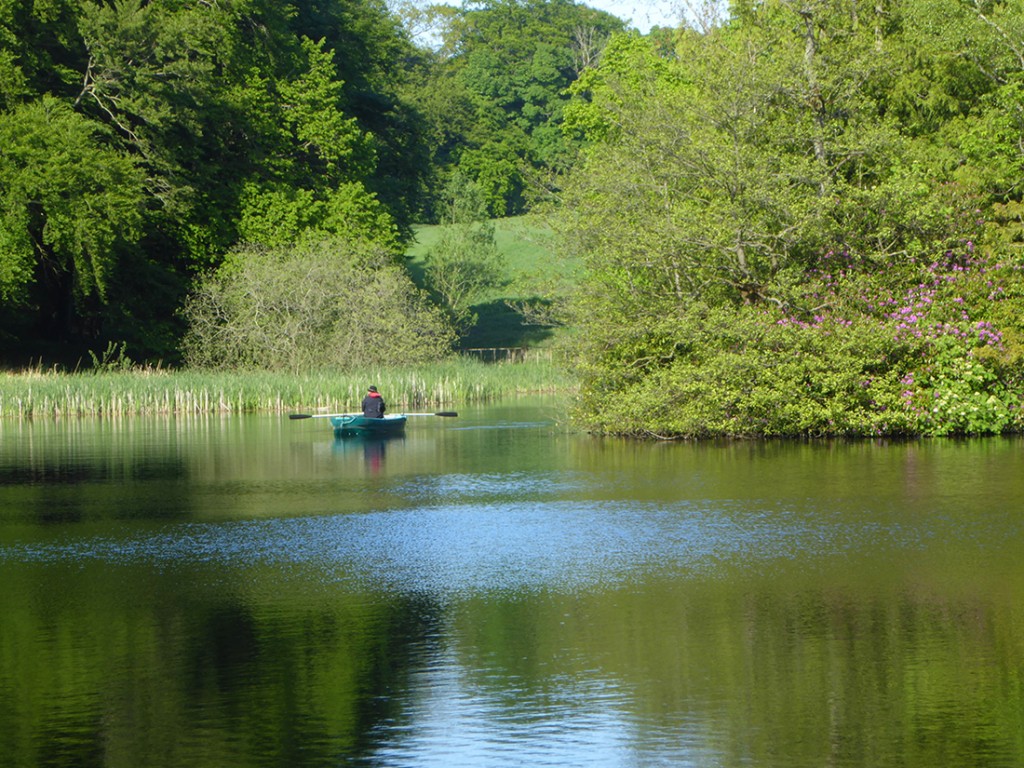 There's a few trout dimpling this shaded corner. Oi mate, over here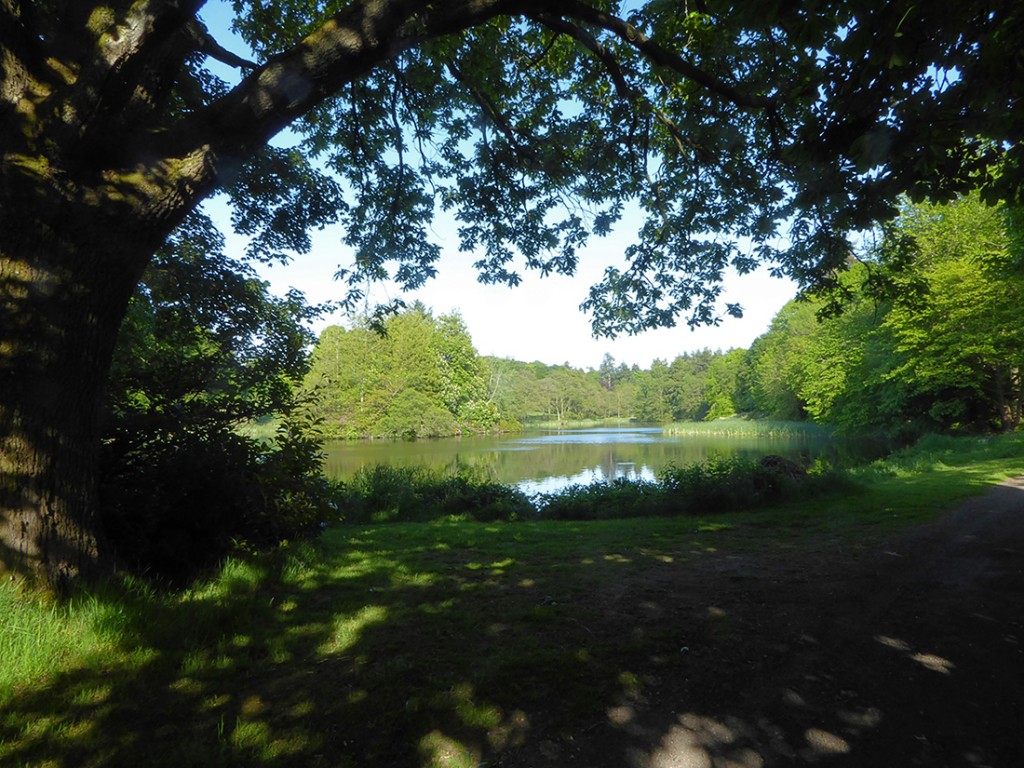 Still some Bluebells in this shaded corner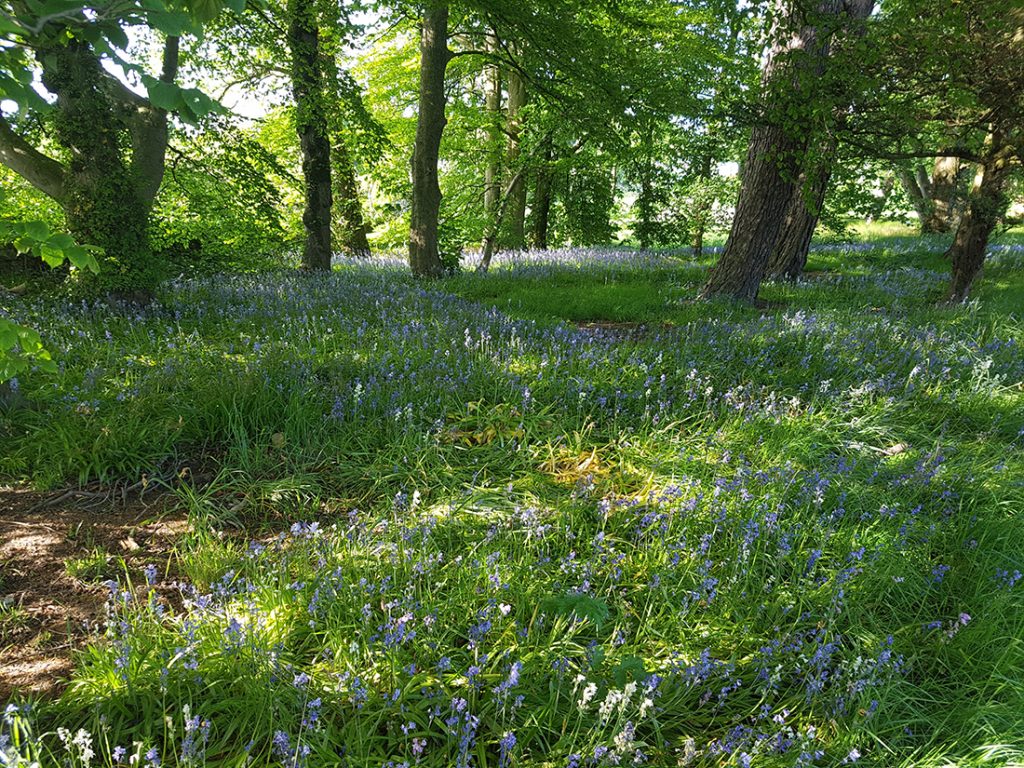 This blue is Green alkanet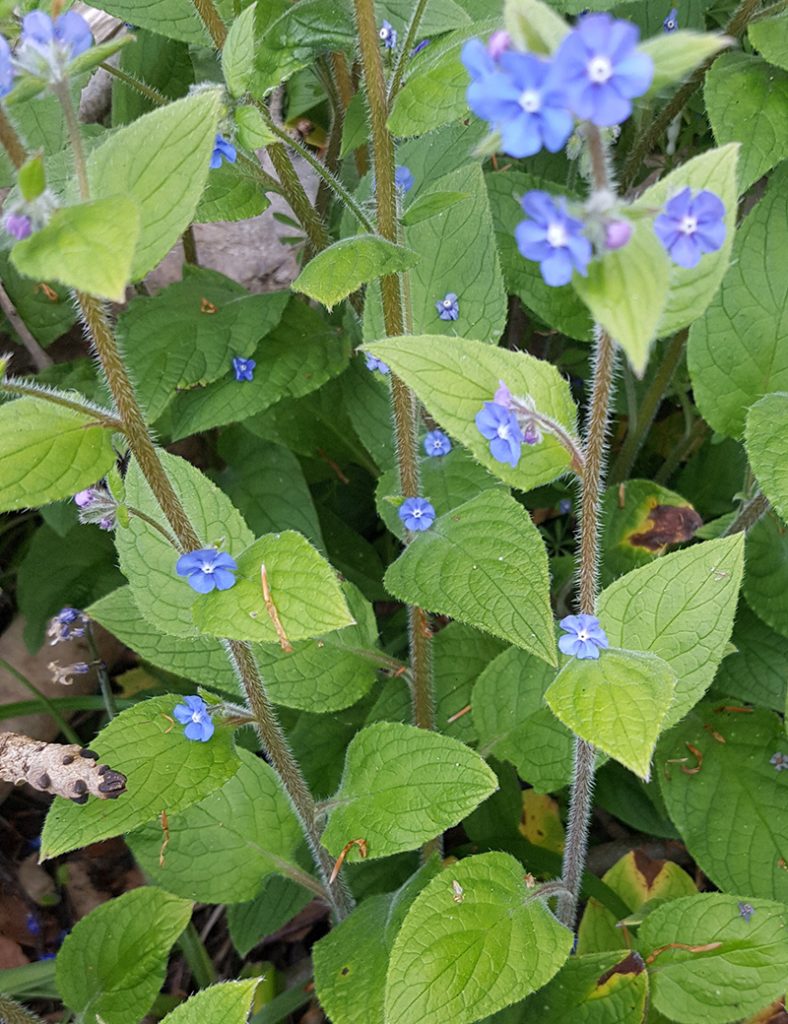 Heading back along the Don from Dyce, I stop for a snack, near this heron stalking. I actually see it pounce on a fish while I have the camera up for a snap, a bit blurry, but hey, well done there Heron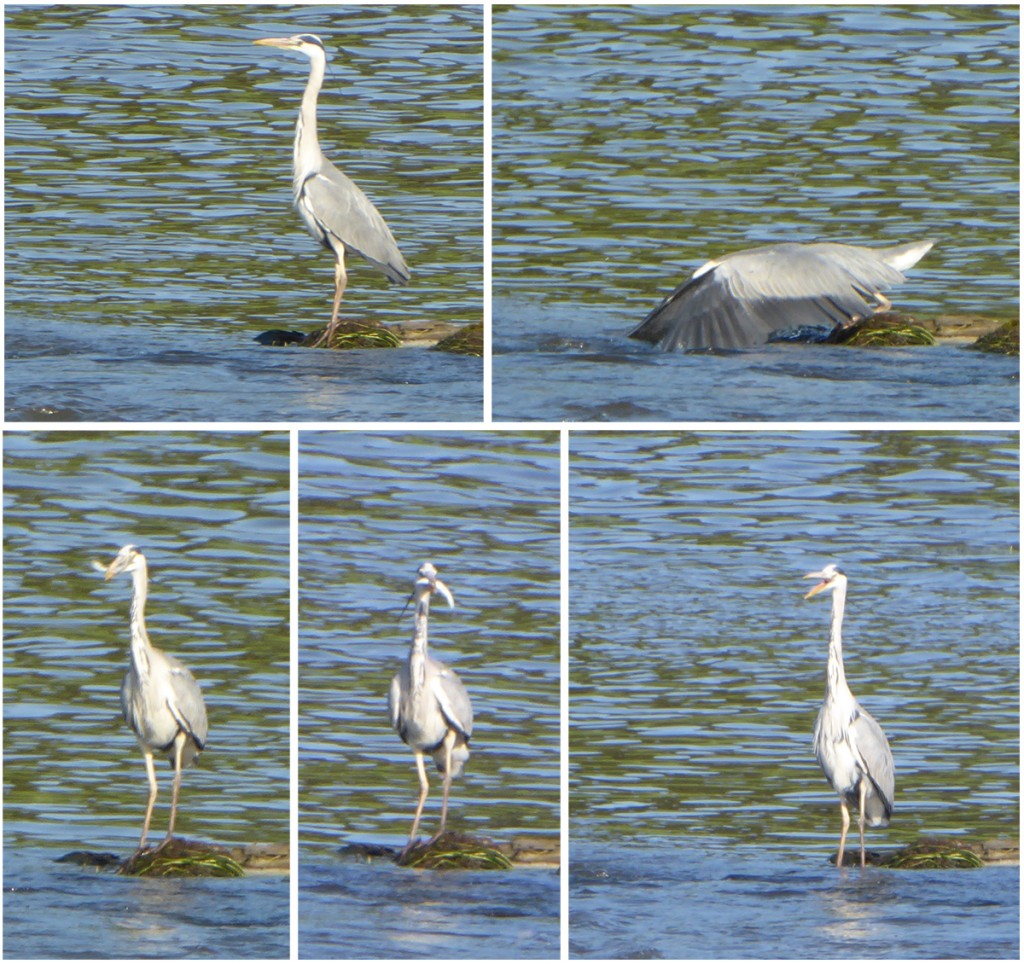 He suddenly flutter across to the other side. I continue to watch him through my monocular. As I'm watching, I hear a sploosh, then another, and another.. I look up thinking it's some sort of fish, but right in front of me maybe 10 foot in from the bank are 2 otters are swimming past, swimming a few meters then breaching clear of the surface before diving down, almost like porpoises. By the time I move cautiously to grab my camera and try for a shot they're 10 meters upstream..  wow.. at last I've seen the Don otters! They hang about a bit in some shallows before disappearing further upstream.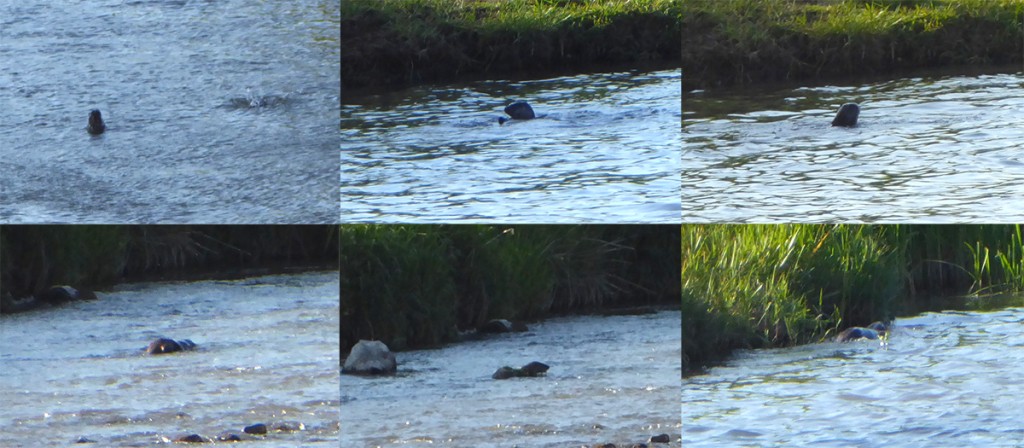 Heron is back on the near side now the coast is clear. Wish I'd paid a bit more attention when it scattered first time.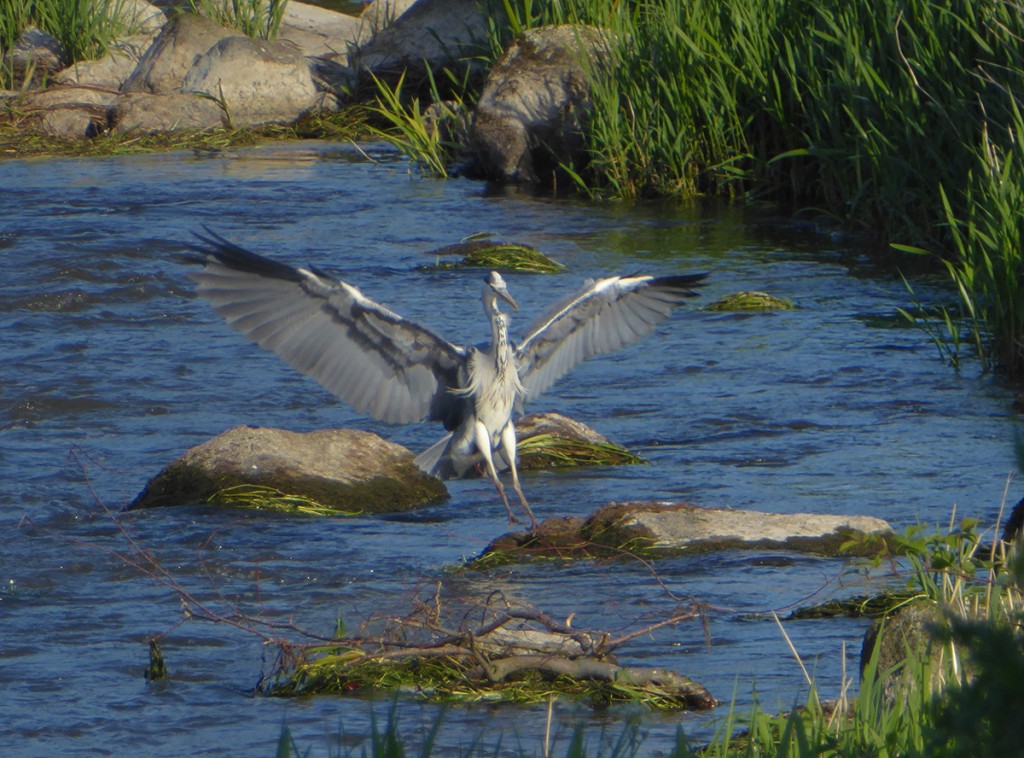 Fly past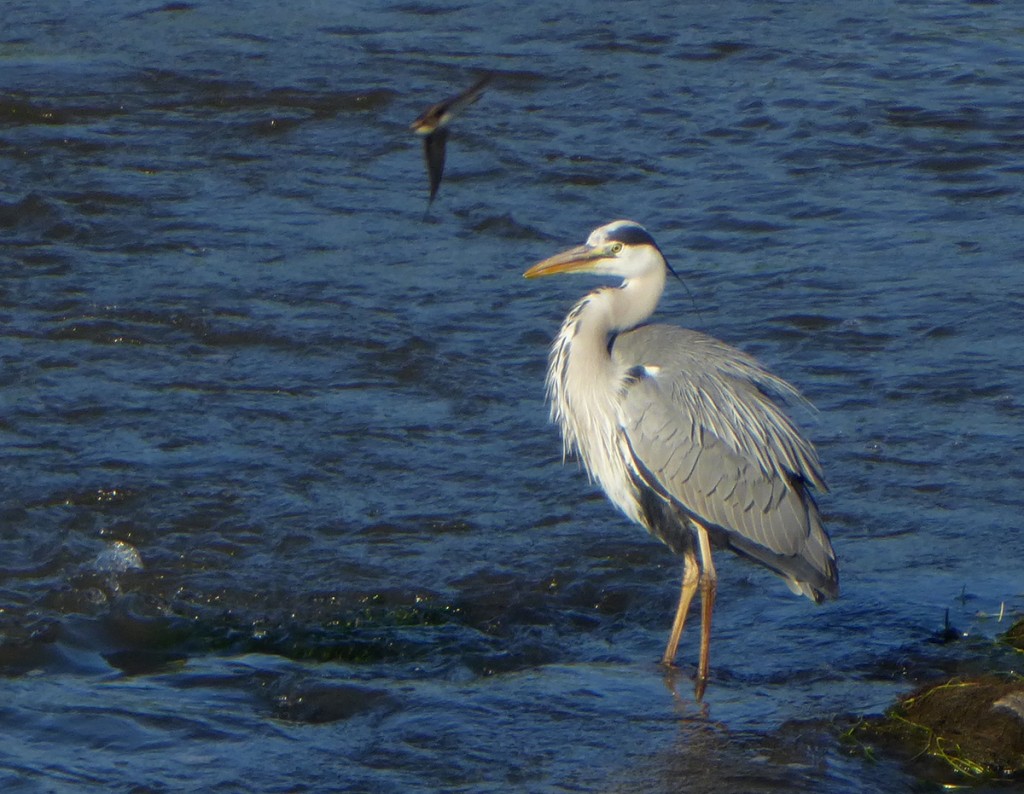 This bird's had enough for the day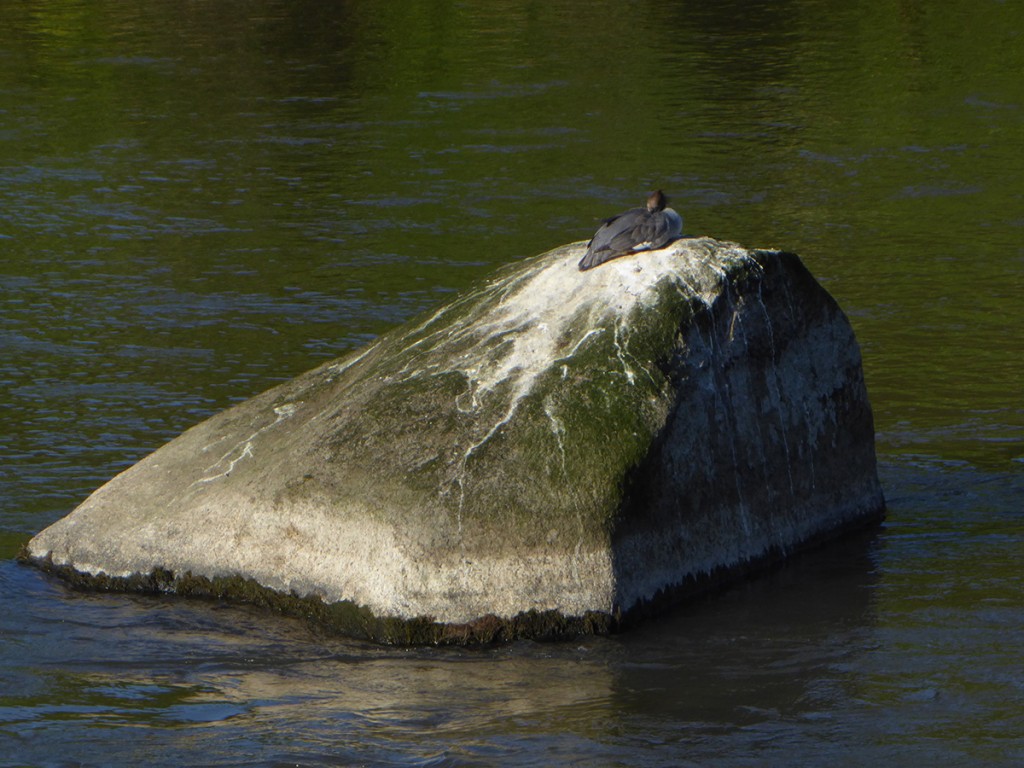 The path along the Don today is tough going. The rusty old fence has been refurbished, and a massive wooden gate and fence installed near Stoneywood house. Some obnoxious busybody presumably wants to discourage folk from enjoying 'their' river, and exercising their Scottish right to roam. Alternative paths have begun to form however through the bushes nearby where determined kids, dog walkers and anglers want through. I add a heavy-footed trample as I clamber through.
Onwards past the mill pond.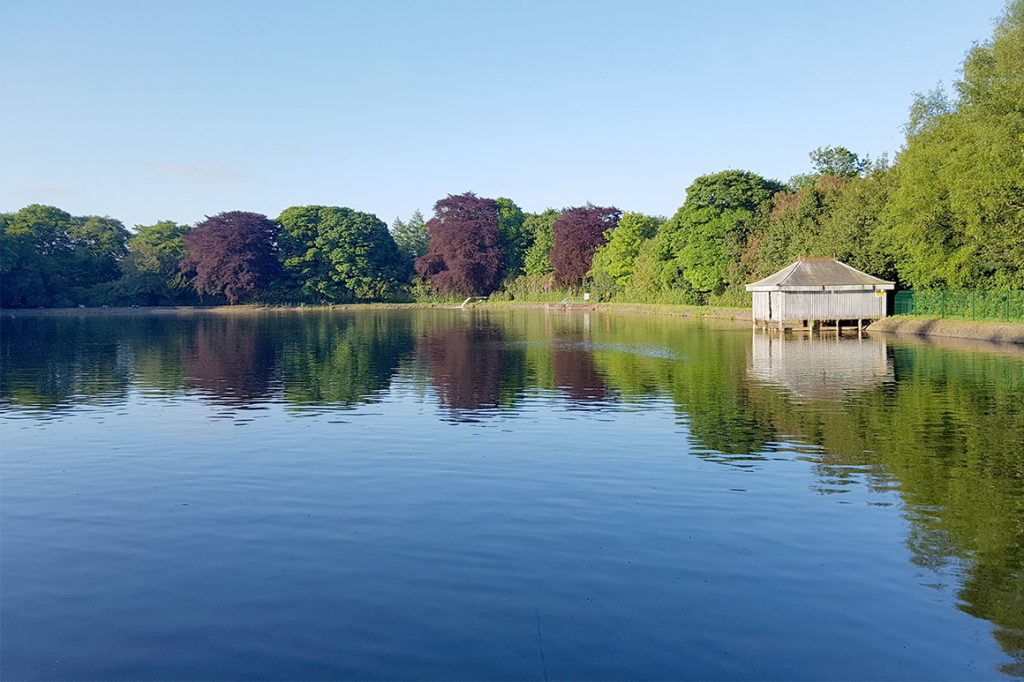 At Seaton Park, it's a fine evening for a spot of trout fishing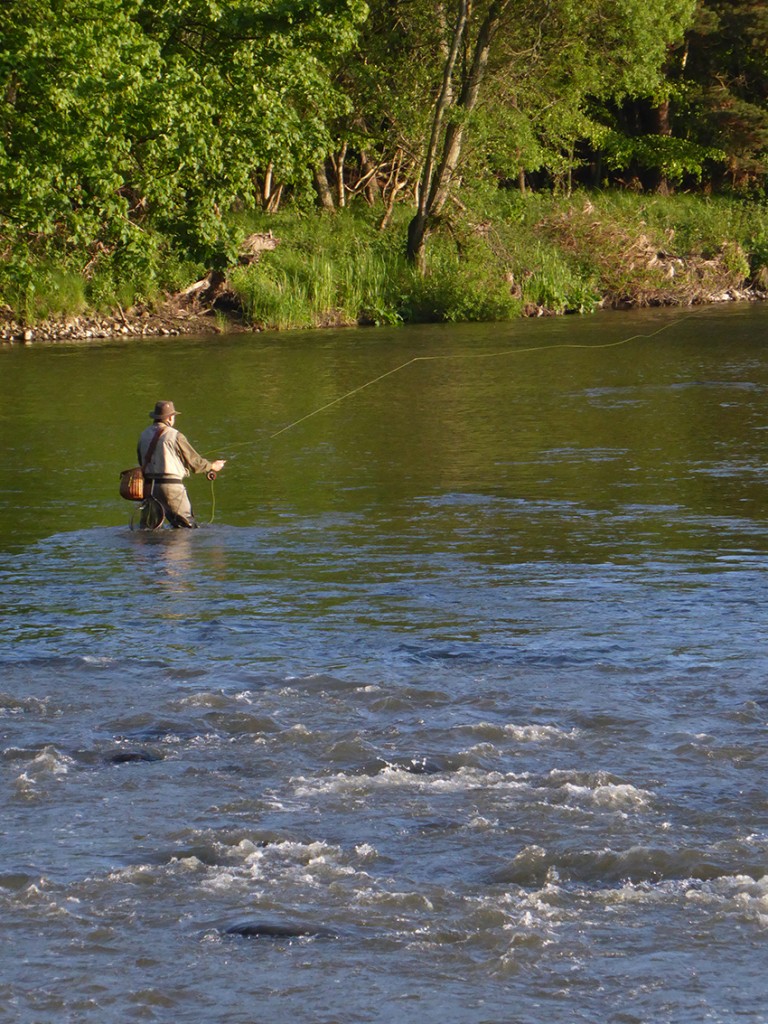 * Update – as it happens, during another bimble along The Don in August, stop and spoke to a fisherman for a good half hour, about wildlife and environment. He reckoned it had been tested as a potential fishery a few years ago, that there might be a few trout in there left over from a trial, and that somebody had caught a large perch when test fishing it.