Today's primary task is bike set-up, adjusting gears, suspension and breaks on another bike I've recently acquired. It's my first full-suspension MTB, so out testing how it handles both up and downhill too – Tullos Hill should do.
First round the rocky beach path, I watch the bow wave of this boat to see if any dolphins are tempted in, but no sign today. Haven't seen any in ages now

Oystercatchers and gulls keeping themselves to themselves
The pebble section and some of the rocky bits at Nigg Bay that normally need a hike are negotiable with rear suspension. I stop for a minute to study some plants, this bird (Rock Pippit) isn't shy.
A boat scuds across the bay.. wait.. wait.. CLICK. Thanks for waiting birdy!
Back to the plants. Thrift in full bloom. In Gaelic it is known as tonna chladaich, meaning 'beach wave'
I think this is Black Mustard (Brassica nigra) the seeds can be used to cook
Ragged Robin (Silene flos-cuculi)
I think this might be Scottish Lovage, which is edible. I'm not sure, so leave it be other than one sprig to try and identify later
Chap out on a paddle board. I've no idea if this is the same as a windsurfer one without a sail or not, or why you would do this rather than a kayak. I guess you get a better view point and can possibly 'surf' as well as paddle, though you're probably going to fall off occasionally
Climbing up to the top of Tullos Hill a buzzard taking a post break.
Up near the top there's a load of cotton puffs – Bog Cotton – Eriophorum angustifolium
Looking down closer into the moss, it's like a wee alien forest
The wee podded stalks are Polytrichum strictum otherwise known as Bog haircap moss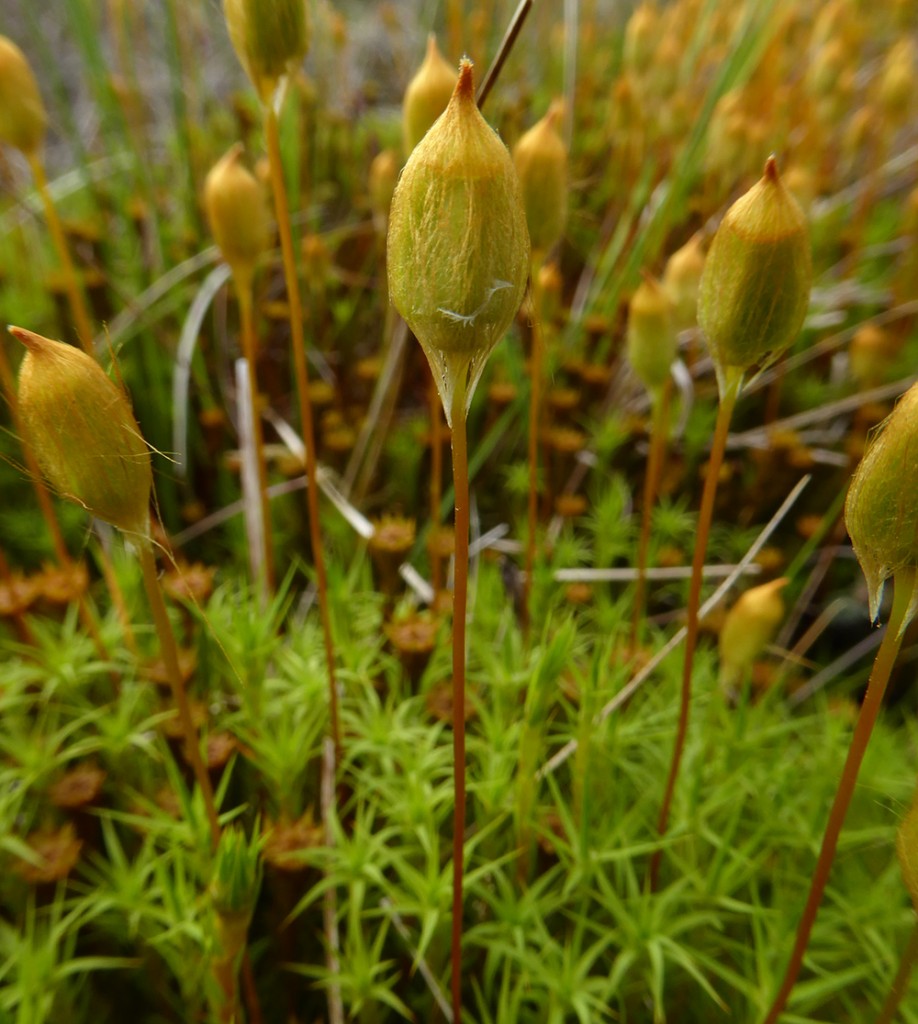 I thought swallows flew constantly. This couple have stopped briefly from swooping on insects to have an argument and a sulk
Those flies ain't gonna eat themselves
First white petals of Lady's Smock flowers showing, in a few weeks this will be a white sea
Zooming out to sea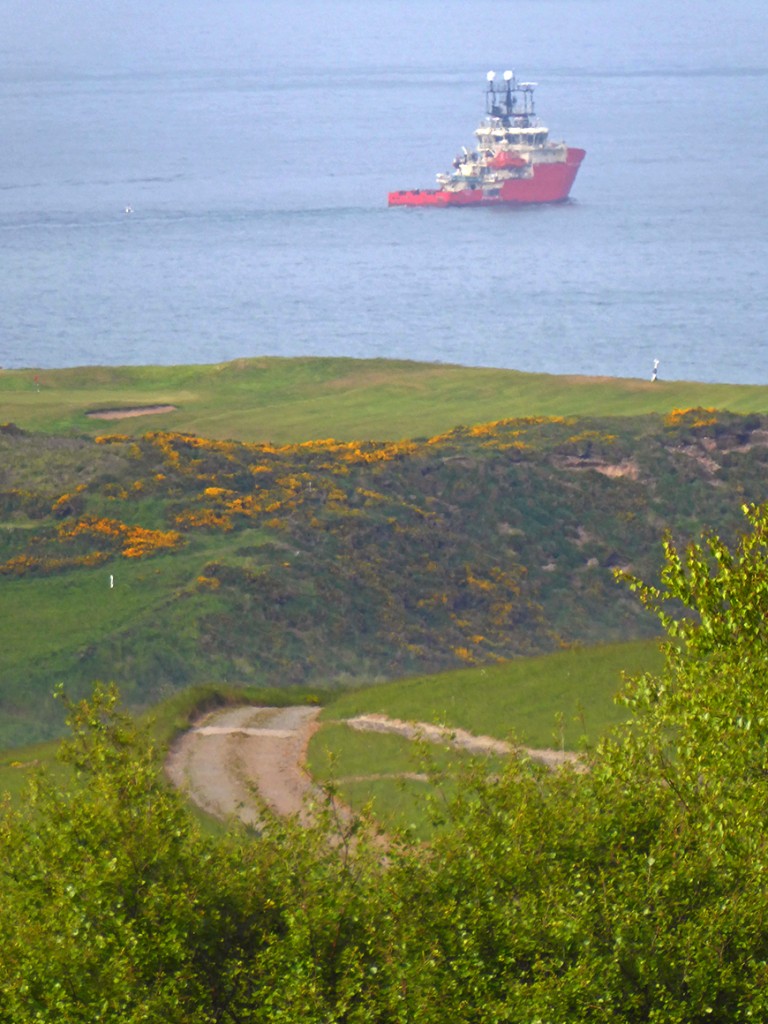 Up onto Kincorth Hill, Nigg Kirk peeping through foliage
Went down a couple paths I'd not been before. Noticed this metal impression on a rock, I guess there must be others, perhaps covering other plants / wildlife?
After descending I headed along the road and up Tollohill to complete the trio of hills bordering Aberdeen's South side
Found a couple hidden paths with evidence of MTB activities, didn't switch on strava so unfortunately had to wait for another time to see if there was a segment. Headed back down towards the river. The end of the path leads through the Beannachar Camphill community.
It's a nice leafy environment
In one of the woods there, a massive fallen tree's roots and branches look like the ribs of some ancient beast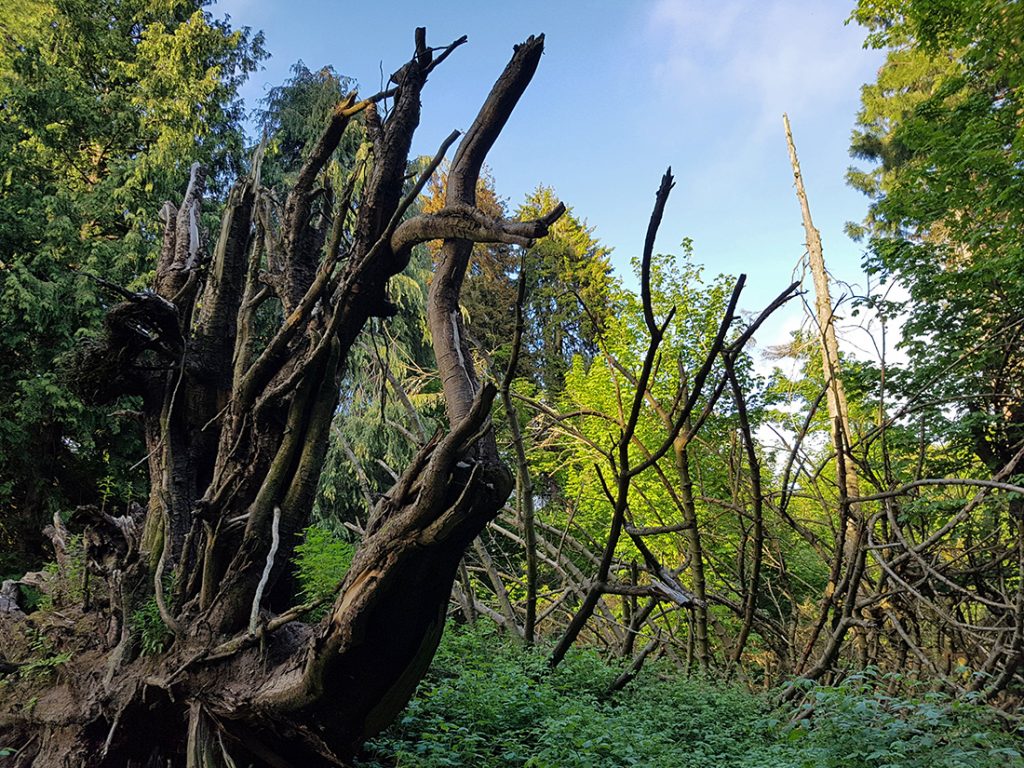 Big old pines casting shade. Had a nosey around Banchory Devenick house – major building works going on and the pond there drained, not much to see
Heading back into town had a look along The Dee,banks to see if there was a bike navigable path at this point on the South bank (couldn't see one).  Spotted this poor old house right on the banks. It's vicinity would lead me to believe it probably got flooded earlier in the year when it was very high.
The garden still has a flower or two
Heading back into town, the road was blocked by a bunch of Neds, one who had a mountain bike. "Hehmin ya want to race" er.. ok then…boom.. 1-o moab 😉